West Ham might appear outsiders in the top-four race but they are not going away. Under David Moyes they always find a way to hang in there, and that is what happened here: victory over Wolves was vital for their chances and they came away with an entirely deserved three points. Moyes punched the air with both fists at full-time and may feel that, by beating a close rival in the table, his players have put a frustrating spell to bed.
Any other outcome would have flattered a blunt and largely passive Wolves whose performance did not, to the less trained eye, match Bruno Lage's estimation. West Ham should have scored at least once either side of Tomas Soucek's winner, which happened to arise after their least convincing spell, and showed far more of the energy that had sapped in recent weeks.
Soucek put in his sharpest performance in some time and his winner was assisted by another player, Michail Antonio, who also looked close to his best.
Soucek's reputation as a poacher from midfield has not held up quite as well this season; he will still need six more goals to match last season's tally of 10. But his instinct held up well when Antonio, helped by Rúben Neves' deflection of an Aaron Cresswell pass, burst into space inside the left of the box. Antonio centred low and Soucek, sticking out a long leg, diverted past José Sá.
"I'm hoping that gives him confidence, I thought he played better today," Moyes said. It was a pleasant way for Soucek to mark his 27th birthday and, despite plenty of bluster, Wolves rarely looked like finding a way back from there.
Given that it moved West Ham five points above Wolves, the goal may prove crucial in its narrow footballing context. Before kick-off West Ham's players marked the infinitely more important global issues that have clouded recent days. Their Ukrainian forward, Andriy Yarmolenko, was given compassionate leave by the club on Friday in the wake of his country's invasion by Russia; West Ham warmed up in shirts displaying his name and number, while Declan Rice held up a similarly adorned home shirt as the teams lined up before kick-off. A message on the scoreboard, coloured in Ukrainian yellow and blue, read: "Sending love and prayers to Andriy Yarmolenko and the people of Ukraine."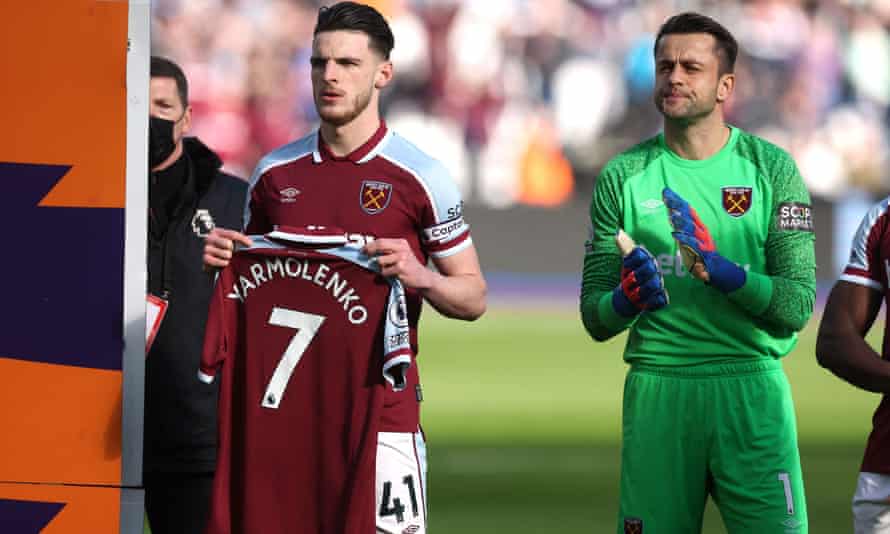 Moyes said Yarmolenko hopes to train on Monday. "We're really just more interested that he's got his family safe and that everyone connected with him is OK," he said. "I think there's a message from the Premier League, a brilliant message that they're putting out all around, saying that nobody here, nobody in this part of the world, is recognising war. We don't want it, we don't want to hear about it, we support Ukraine and we support our player in Yarmolenko."
West Ham set out as if eager to do their teammate proud and should have been ahead by half-time. Wolves were forced deep from around the 15-minute mark and hung on by a thread when Antonio drew a parry from Sá, who had deflected in the unfortunate own goal that undid them at Arsenal three days previously. Rice came closest, whipping a delicious strike against the far post, and the visitors had offered nothing until Hwang Hee-chan swept a decent chance wide as the interval approached.
"It was a tight game, but a really good result for us," Moyes said. "We got a goal up in the end and maybe we were a little bit unfortunate before and after it that we didn't score again."
Jarrod Bowen ought to have rendered that sentiment unnecessary but, set up by the impressive Pablo Fornals, prodded an uncertain left-footed effort at Sá. Then Antonio spun Conor Coady thrillingly on halfway and outran Max Kilman but, with one of the season's better solo goals in prospect, unselfishly sought to tee up Bowen and saw the ball cleared.
Fabio Silva squeezed wide at the near post straight after Soucek's winner but, although they pressed towards the end, Lukasz Fabianski was equal to everything. "Fabianski is one of the best goalkeepers in the world to stop crosses," Lage said pointed out, although that also said something for Wolves' lack of variation.
"I think it was a good performance, I think we played the way we want and like," Lage said. In truth it was forgettable, although he was not wrong to say Wolves had still run both of their opponents of recent days close and it will be far from damning if they end up scrambling for a Europa League spot come May.
West Ham can retain higher designs, although Moyes spoke about Champions League football in a longer-term sense. "I want to concentrate on us and focus on making us better, growing us into a club that can be classed as a top-four club," he said. Much stranger things have happened.