66 min: Spurs stroke it around in the relaxed style. With two huge games remaining, both teams would probably be happy enough to call it a day right now.
64 min: Smith Rowe comes on for Martinelli.
63 min: It really should be four. Hojbjerg slides a pass down the left for Sessegnon, who instantly slides infield for Son, alone on the penalty spot. Son clanks high and wide when he simply had to score. That would have put him on 22 goals for the season, in joint first spot alongside Mohamed Salah … though VAR might have had something to say about it. Was Sessegnon a couple of inches offside? Maybe, though it's all academic now.
62 min: Kane sends a rising swerving shot goalwards from the best part of 30 yards. Ramsdale again intervenes with a strong hand, tipping over for a corner from which nothing comes.
61 min: The Spurs fans are really enjoying themselves as their heroes ping it around. This is slightly embarrassing for Arsenal.
59 min: The Spurs fans with the olés already. There's not even an hour gone! Then suddenly Kane crosses from a deep position on the left. Emerson rises highest and tries to plant a header into the top left. It's too close to Ramsdale, who blocks with a fine reaction save. That's superb damage limitation from the Arsenal keeper.
57 min: Nketiah glides down the right and tries to beat Lloris from a tight angle. Easy for the keeper. Saka, alone in the middle, receives a hand of apology from his team-mate.
56 min: Arsenal keep plugging away, and eventually Martinelli slings a cross in from the left. It flies harmlessly out for a goal kick.
55 min: Some sterile Arsenal possession. Spurs are happy to sit back and watch them stroke the ball around to no effect.
53 min: The Spurs faithful are in party mode. This place is rocking.
51 min: … but a goal would change the mood, a little anyway. Martinelli drives down the left and cuts back from Saka, who aims for the bottom right but the ball's never getting through a forest of legs. Some pinball, and Spurs clear.
50 min: Now it's Kulusevski versus Martinelli down the right. Kulusevski runs hard at his man, but can't get past, and the whistle again goes for a free kick. Arsenal are teetering on the brink.
49 min: Kane very nearly battles his way past Gabriel down the left. For a second it looks as though he's going to scoot clear, but the defender holds his ground and eventually wins a free kick. Arsenal are in danger of taking a hiding here.
GOAL! Tottenham Hotspur 3-0 Arsenal (Son 47)
Just over a minute into the second half, and this is all over! Sanchez rolls a pass down the middle for Kane, who has his back to goal and attempts to spin Gabriel. He can't quite do it, but the ball breaks to Son, who larrups into the top right. The blood instantly drains from Mikel Arteta's face.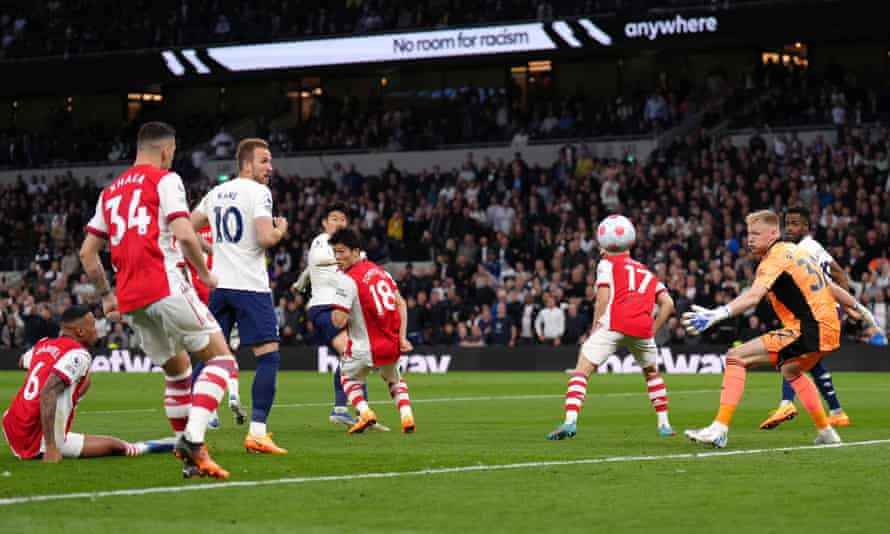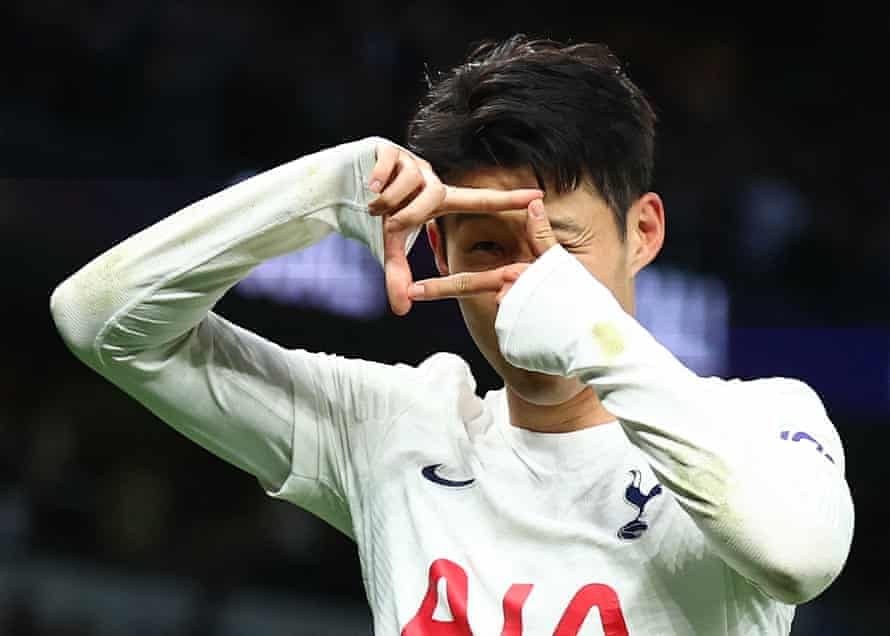 Spurs get the second half underway. Neither side has made a change during the break.
Half-time mailbag. "Ridiculous of Holding, but was it also poor by Arteta? You could see what was going to happen; surely Arteta should have done too and hauled Holding off before he was sent off. White was waiting on the bench" – Jonathan Wood.
"Those saying Kane was stupid to sign that contract were stupid. He has given his prime years to Tottenham, signed the contract so if someone does come for him it has to be a proper bid. Even last summer when he saw City making mockery of Spurs, he declared his future a week before transfer window closure. He has given everything. Sadly Tottenham haven't won anything with him. But in many ways he raised Tottenham's level and I wouldn't switch any moment – good or bad – for anything else" – Yash Gupta.
"If Holding played for Conte, would Conte kill him?" – Gary Stover.
HALF TIME: Tottenham Hotspur 2-0 Arsenal
A huge half for Spurs, a disastrous one for ten-man Arsenal. As things stand, the chase for a Champions League spot looks like this …
45 min +1: The first of two added minutes. Saka stands one up from the left. Lloris claims. Arsenal will be buoyed by the last couple of minutes, which have shown they can still trouble Spurs. A straw-clutching exercise maybe.
45 min: Martinelli drives with purpose down the left and cuts back for Odegaard, who scuffs a shot intended for the bottom left straight into the arms of Lloris. "What's the word on Kane now?" wonders Ted Graves. "With Haaland off to City and Tottenham seemingly past the dark days of Mourinho and Espirito Santo, does he still want to leave? To his credit he seems to have realised that he doesn't have a ton of leverage to force a move and that he might as well get back to giving Spurs his all."
43 min: … but should they pull a goal back before the break, they'll feel a whole lot better about themselves. Nketiah curls towards the top right from distance. Lloris is forced to arch his back and tip over the bar spectacularly. Nothing comes of the resulting corner.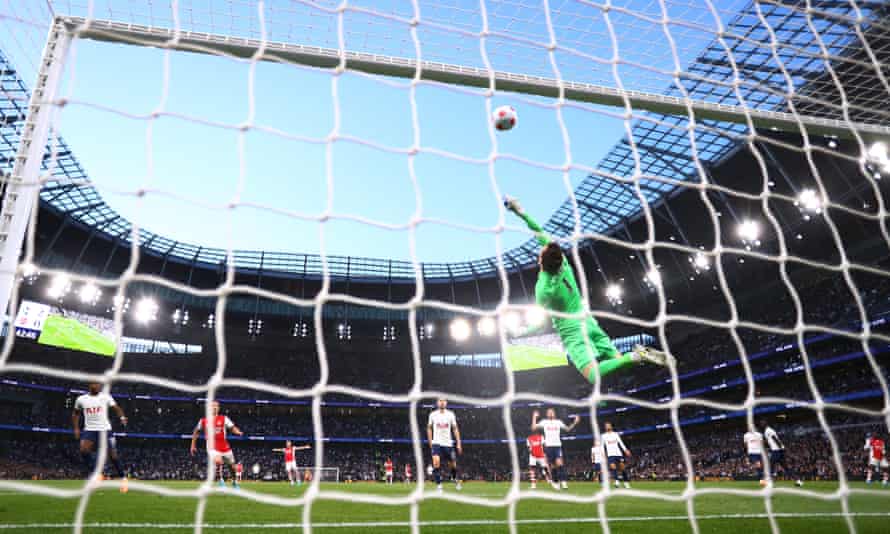 42 min: It Could Be Three pt. II. Sessegnon scoops a cross in from the left. The ball drops to Emerson, who shins wildly over the bar. A huge chance. Arsenal will be desperate to hear the half-time whistle.
40 min: Xhaka has a moan at the referee. Not sure what it's about. Xhaka is as Xhaka does. Then Odegaard is barged over and takes a whack in the face from the boot of Davies. It looks accidental, but Davies has already been booked and wants to watch himself, just in case the referee fancies levelling things up.
39 min: It could be three. Emerson and Kulusevski romp down the right. For a second, it looks as though their combination will tee up Kulusevski, just inside the box. Martinelli does well to track back and stop him shooting. Kulusevski goes over, and wants a penalty, but it's a fair challenge.
GOAL! Tottenham Hotspur 2-0 Arsenal (Kane 37)
Son whips in from the right. Bentancur flicks a header towards the far post. Kane stoops to head into the bottom left from a couple of yards, the nearby Nketiah powerless to stop him. Noise! Bedlam! Arsenal are losing it.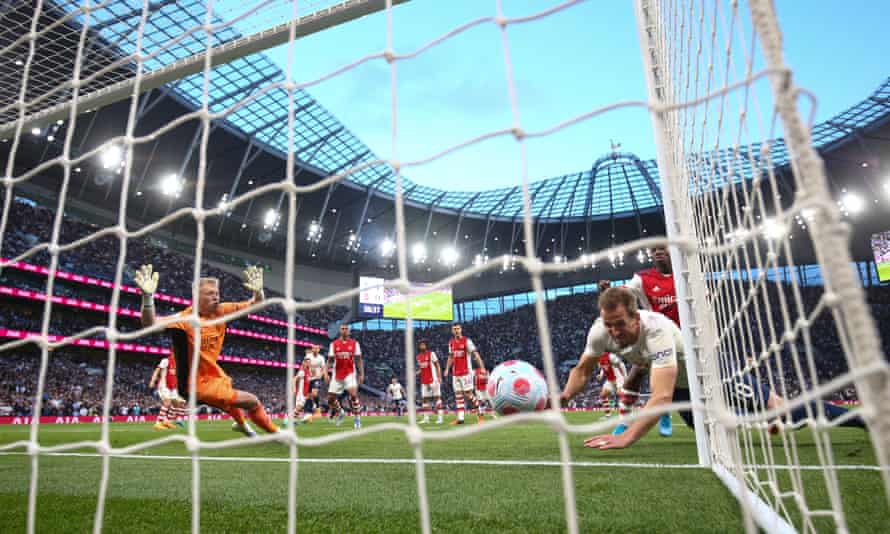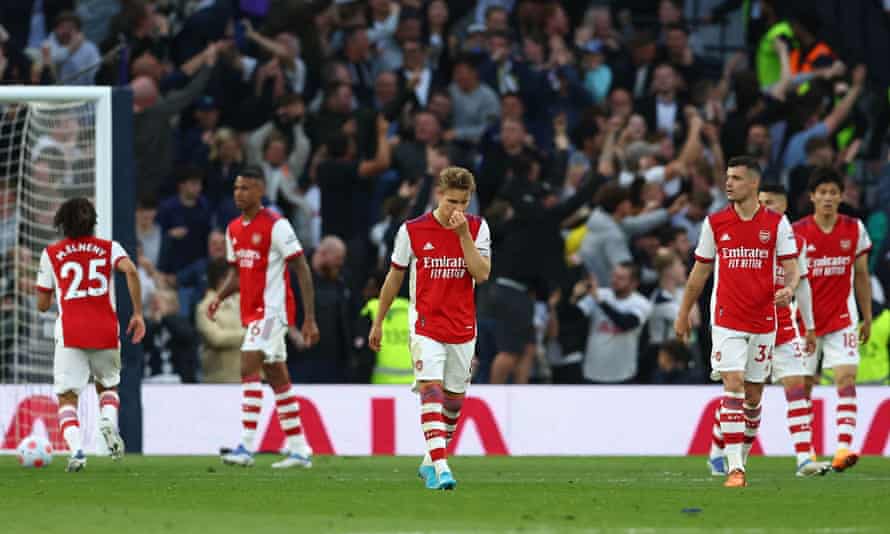 36 min: Saka comes clattering in on Hojbjerg and Arsenal really need to calm down here. The resulting free kick leads to a corner on the right, and from that …
35 min: That could easily have been a straight red, never mind a second yellow. Factor in the unpunished toe-punt to Son's back, and Holding did enough for two reds and a yellow in 33 minutes of football! What a galoot.
RED CARD! Holding (Arsenal)
33 min: It's fair to say this had been coming. Dier launches long down the middle. Son chases after the ball. He's stopped unceremoniously by Holding, who cynically steps in, shoulder first. Pow, right in the kisser. A second yellow and he's off. What a bone-headed performance!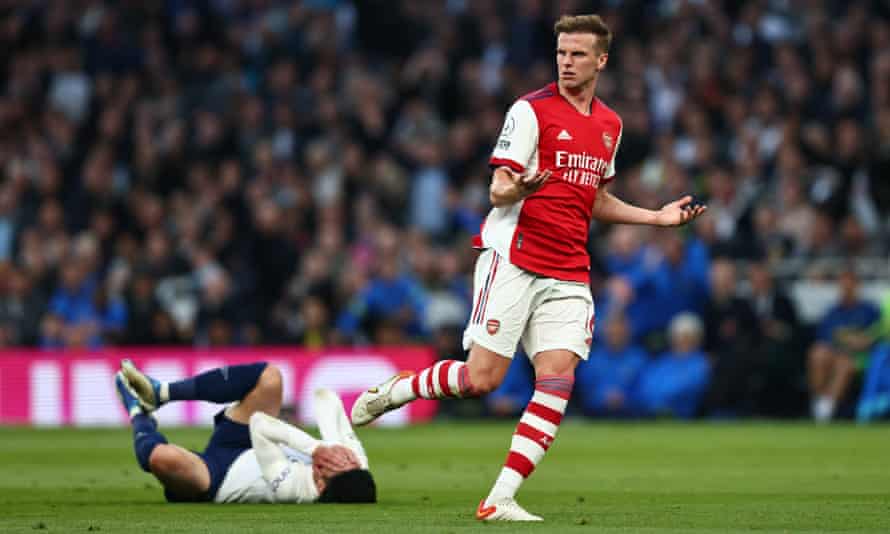 32 min: Arsenal look jittery. Elneny gifts possession to Kulusevski, who nearly releases Son down the inside-left channel. Arsenal close the door just in time.
30 min: Hojbjerg romps clear down the right and looks for Kane in the middle. Kane prepares to sweep home but is put off by the sliding Cedric and gets it all wrong. This certainly doesn't have the feel of a game that will only produce one goal.
29 min: Arsenal have conceded the first goal on eight occasions in this year's Premier League. They've gone on to lose seven of those matches, winning just one. Xhaka flaying miles over the bar from an ambitious distance won't help to massage that stat.
27 min: Kane nutmegs Gabriel on the edge of the Arsenal box, then shifts the ball to his right, evading Tomiyasu. He takes a snapshot, but Tomiyasu regains some ground and blocks brilliantly. The ball breaks to Emerson, who blazes over from a tight angle. This match is flying along at 101 miles per hour.
26 min: Nominative Determinism's Rob Holding is booked for, yes, grappling with Son. He's been all over the pace so far. He could easily have been sent off already.
25 min: Martinelli is sent scampering down the left. He reaches the byline and stands one up for Odegaard. Lloris rises and claims at the far post … then drops as he falls! Odegaard can't nick the ball away and Lloris reclaims at the second attempt.
23 min: The roof of the Tottenham Hotspur Stadium copters off towards Watford. What a noise! "Excellent nominative determinism from Holding," writes Ben Nickless. "Possibly it for tonight, unless Winks gets on and, you know…"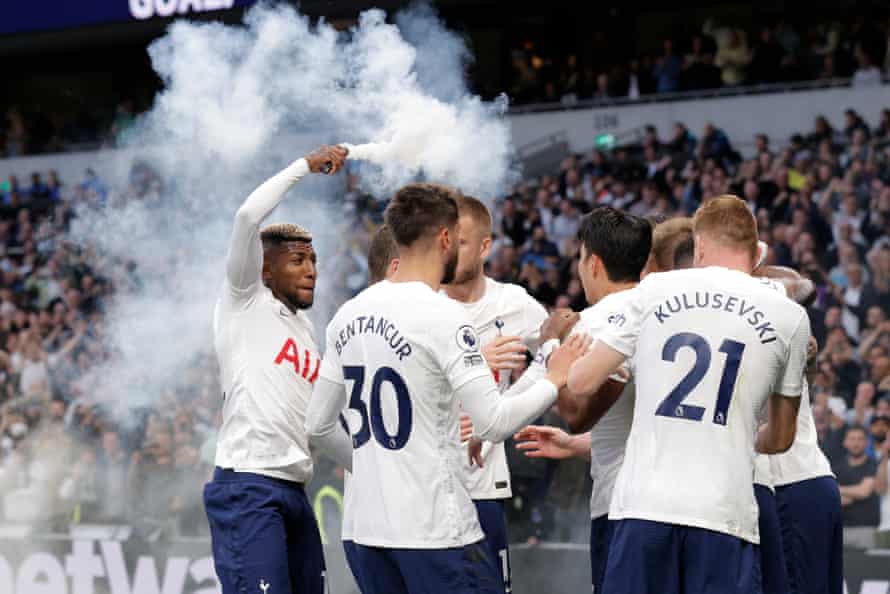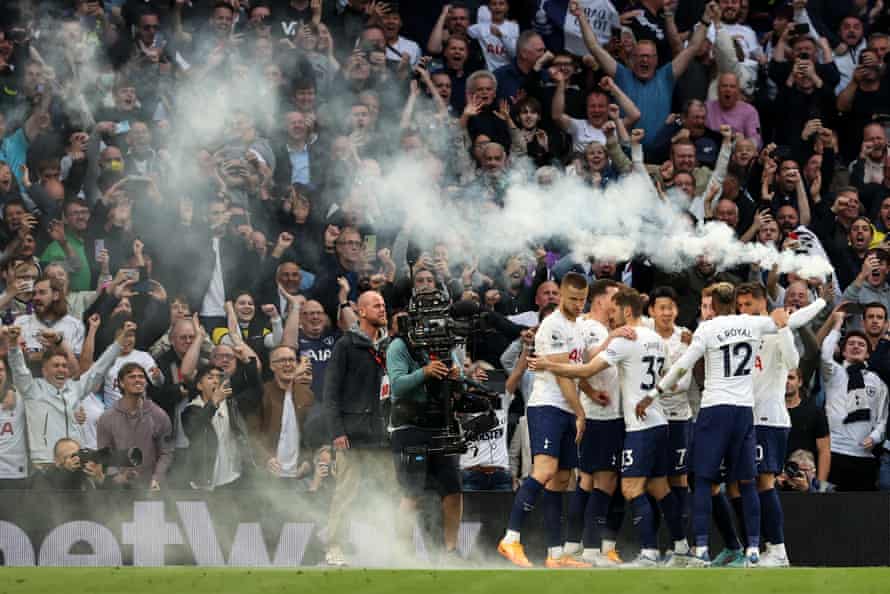 GOAL! Tottenham Hotspur 1-0 Arsenal (Kane 22 pen)
Kane gives Ramsdale the eyes, sending the keeper the wrong way as he forcefully dispatches the ball into the bottom right. Spurs lead!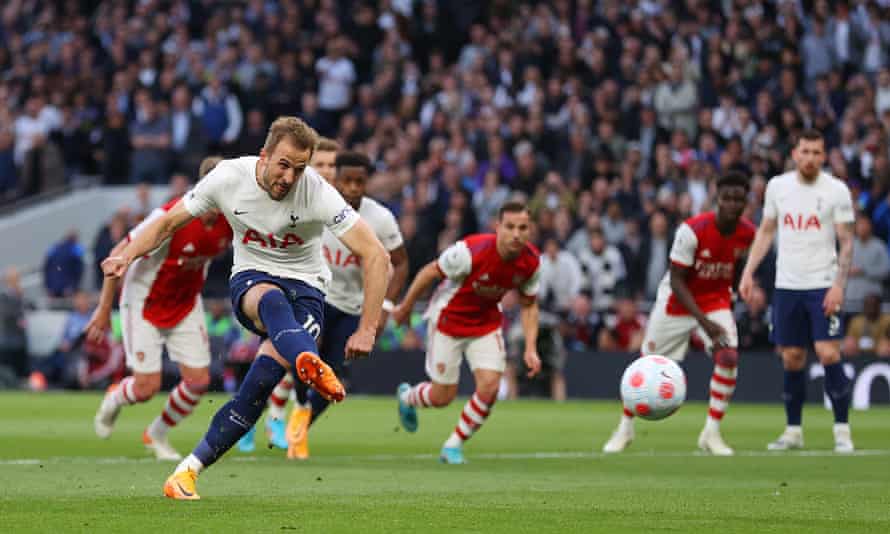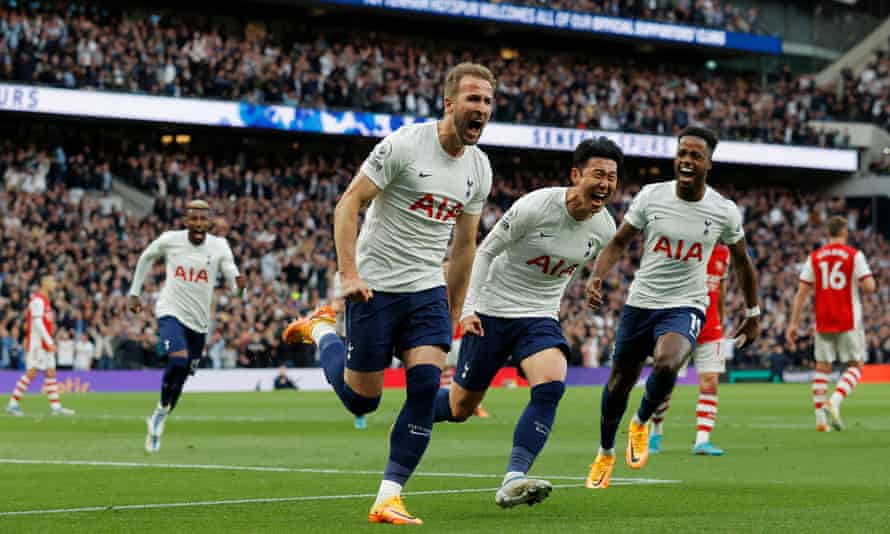 21 min: Kulusevski crosses deep from the right. Son rises at the far stick. As he hovers in mid air, he's barged by Cedric, then Holding. Down to the ground he goes, and the referee points to the spot!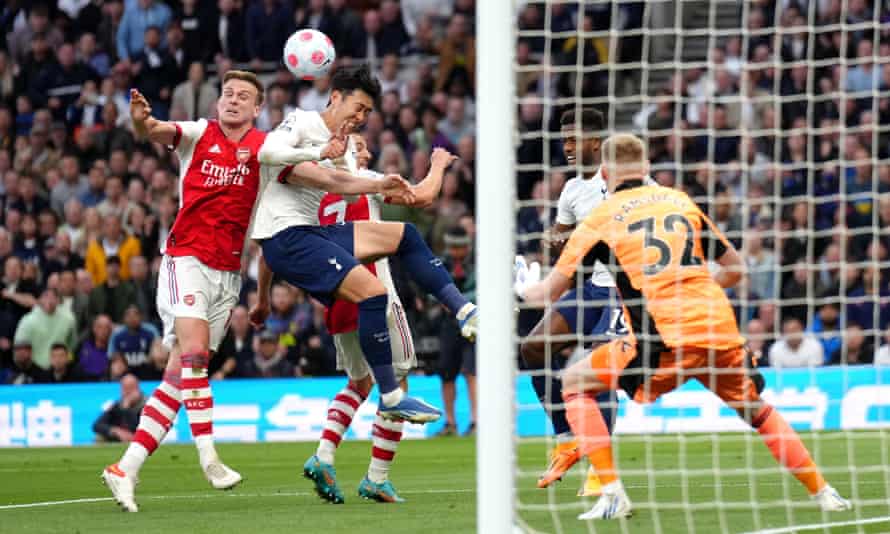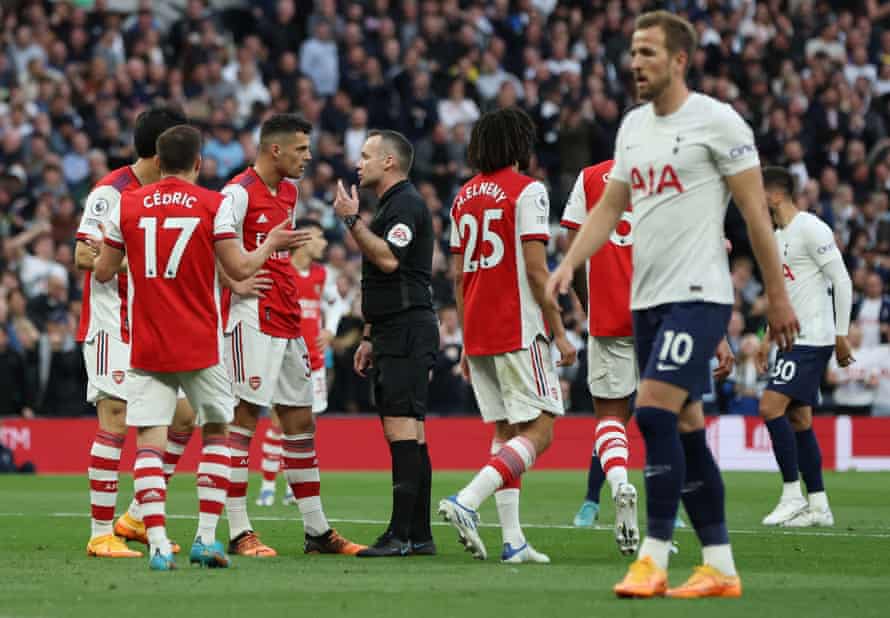 20 min: Spurs probe patiently. Arsenal hold their shape.
18 min: Saka nips in ahead of Davies down the Arsenal right. He's preparing to zip into the box when Davies cynically clips his ankle. Into the book he goes. Before the free kick can be taken, Conte – who thinks Davies was unfairly impeded by Saka – is ordered to calm down by

Michael Gove
the referee. Nothing comes of the free kick.
16 min: Tomiyasu plays a clever reverse pass down the left to release Martinelli, who races into the Spurs box but can't find Odegaard with his cutback. Dier intercepts. That was a lovely move.
14 min: Dier attempts to release Kane down the middle with an ambitious rake. An easy claim for Ramsdale.
12 min: Now Holding wrestles Son to the ground and refuses to let go. The pair tumble around in the DH-Lawrence-approved style. Son springs up livid, and squares up. Kane steps in to calm his partner down. Holding walks off wearing a cheeky grin, clearly on the wind-up. He's fortunate to escape a booking for his carry-on of the last 60 seconds or so.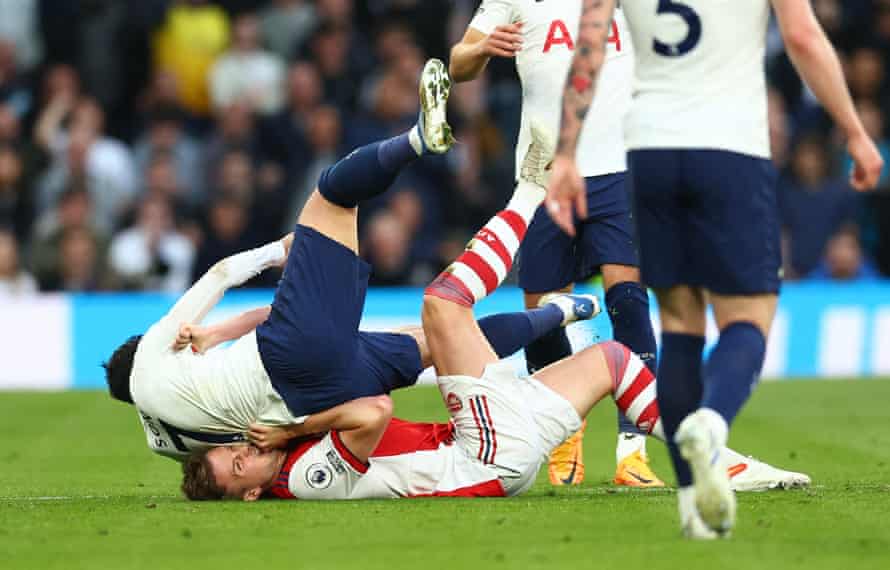 11 min: Holding bowls Son to the ground, then prods the prone Spurs striker in the back with a cheeky poke of his boot. Conte isn't so quiet this time. The referee decides to let it slide.
10 min: Hojbjerg strides into space down the right and hoicks a dismal cross deep into the well-appointed stand. On the touchline, Conte does his very best to keep a lid on his temper.
8 min: Holding hacks upfield in a panic just as Ramsdale prepares to scoop up a loose ball. Then Bentancur whips in from the right. His cross evades Sessegnon and Son, but only just. It's taken Spurs a few minutes to get going, but they're getting up to speed now.
7 min: Kulusevski strips Tomiyasu of possession on the halfway line. Nothing comes of the turnover, but the Swedish winger looks up for this.
5 min: Spurs can't get out of their final third. A few grumbles of complaint and concern. But then they launch their first attack, Kulusevski barrelling down the right before clanking into Gabriel. Free kick for Arsenal. For a second, it looks like the pair are about to throw hands, but common sense prevails, and they shake them instead. Plenty of time for fighting later when someone realises their jig is up.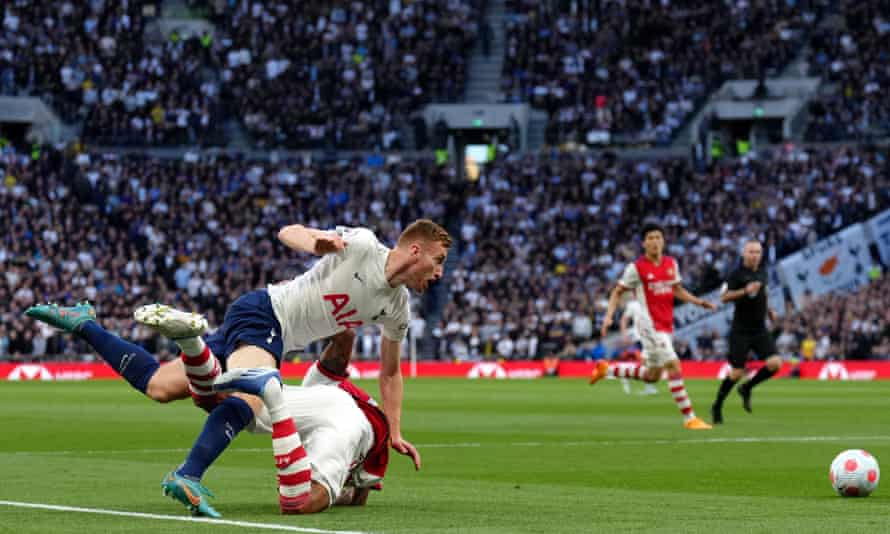 3 min: Arsenal have started quickly. Odegaard sends a shot straight down Lloris's throat. Moments before, Nketiah went down in the Spurs box, but didn't make any claim for a penalty. Just as well, because he went down without Dier having made any challenge.
1 min: Ramsdale launches long, then Nketiah concedes a clumsy foul. If the noise that greets the award of a garden-variety free kick is anything to go by, the roof of this place will copter off towards Watford if a goal is scored. "Spurs stadium absolutely rocking here," reports Ian Jordan, clearly carried away by the atmosphere. "Sanchez to score!" See?
Arsenal get the ball rolling … but only after everyone takes the knee. There's no room for racism.
The teams are out! Quite the atmosphere for the first north London derby at Tottenham's new pile in front of a full house. Magnificent. The hosts are resplendent in their freshly laundered lilywhite, while the visitors are bedecked in crisply pressed red with white sleeves. "So, Spurs will not be playing with the same back nine who played at Anfield then?" quips Tom Gould, adding a sprinkling of salt to Jurgen Klopp's chip. We'll be off in a minute or two!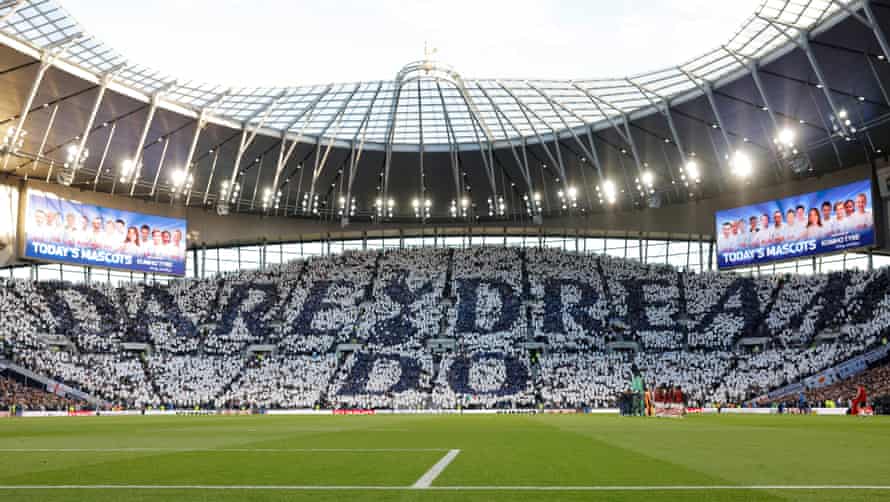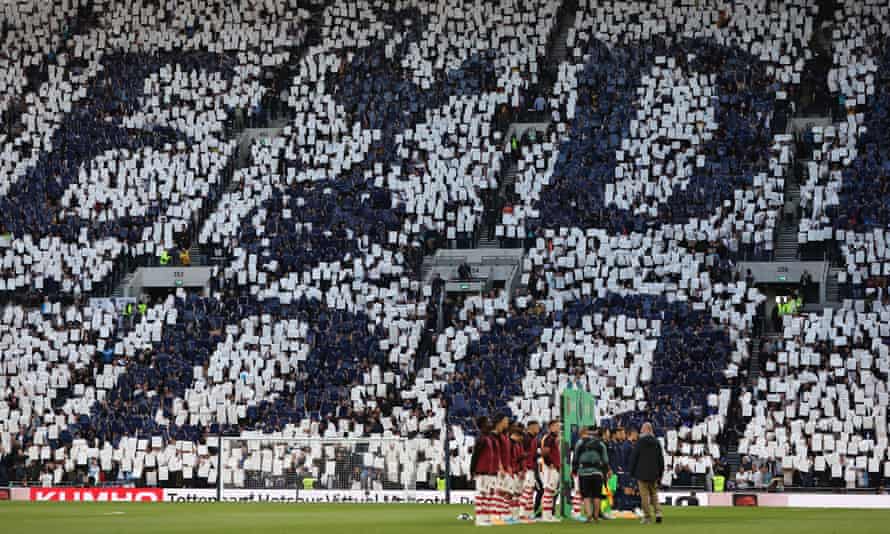 Antonio Conte speaks to Sky. "Cristian Romero received a kick on his hip against Liverpool. It is not positive. We found a good balance with Romero, Dier and Davies. But we trust Sanchez and this solution. I am sure he is going to play a fantastic game. Our approach tonight has to be right. The whole game has to be right. We have to be better than Arsenal if we want the three points. We know they are a really good team."
Some more Arteta hot chat …
… as well as the view according to Antonio Conte.
Mikel Arteta speaks to Sky Sports. "Bukayo Saka trained yesterday and felt good, so he starts the match. Ben White didn't do enough in training yesterday, but he's been very willing to be here and contribute if we need him, so that's good news as well. We always prepare to win and to create many problems for the opposition, and we want to do that tonight. We need composure. Being able to play with emotion is important, without losing the anger and passion that is very necessary, but also having cool minds to manage the situations. We always want to be dominant."
These two clubs have history all right. Here are six famous occasions when this fixture sparked joy.
Tottenham Hotspur make one change to the side that drew 1-1 with Liverpool at Anfield on Saturday evening. Davinson Sanchez replaces Cristian Romero, who has picked up a knock and isn't in the squad at all.
Arsenal meanwhile are unchanged from the 2-1 win over Leeds on Sunday. Bukayo Saka, a doubt for the match, has passed a fitness test.
Tottenham Hotspur: Lloris, Sanchez, Dier, Davies, Emerson, Bentancur, Hojbjerg, Sessegnon, Kulusevski, Son, Kane.
Subs: Winks, Rodon, Gollini, Bergwijn, Lucas Moura, White, Scarlett, Devine, Matthew Craig.
Arsenal: Ramsdale, Cedric, Holding, Gabriel, Tomiyasu, Elneny, Xhaka, Saka, Odegaard, Martinelli, Nketiah.
Subs: Leno, White, Lacazette, Smith Rowe, Pepe, Tavares, Sambi Lokonga, Swanson, Patino.
Referee: Paul Tierney (Lancashire).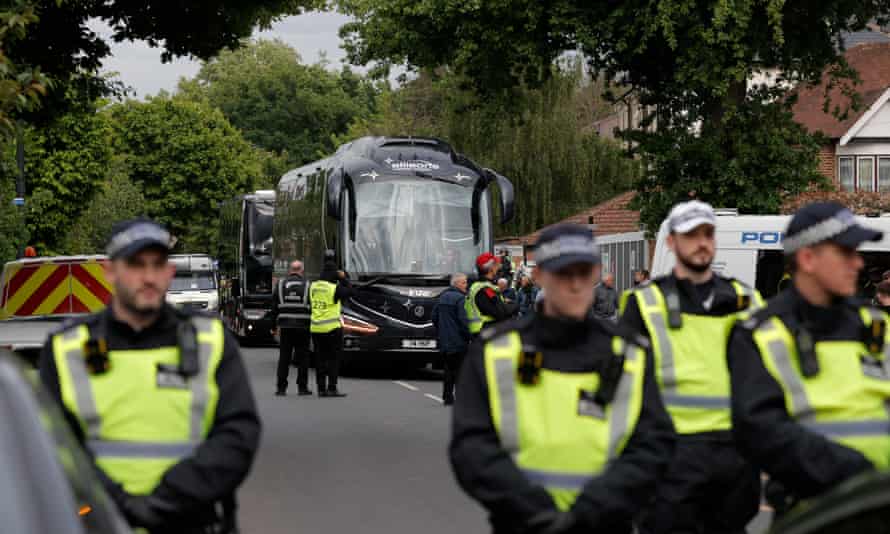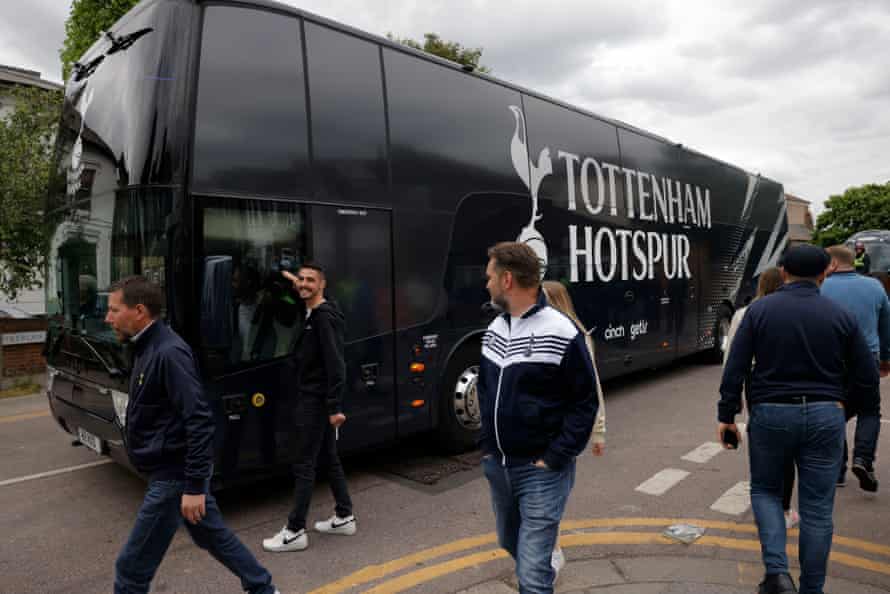 Lads, it's Tottenham … but which one? See, it's difficult to get a handle on Spurs right now. Admittedly this has been the case since time immemorial, but the point stands. During the last couple of months, they've thrashed Everton, Newcastle and Aston Villa, done a tactical number on title-chasing Liverpool, and failed to get a single effort on target in 180 dismal minutes against Brighton and Brentford. Good luck correctly predicting which version rocks up tonight for the north London derby.
They'll be hoping it's the one which has won four of their last five Premier League matches at home. Spurs desperately need all three points if they're to snatch Champions League qualification from fourth-placed Arsenal's grasp. Win tonight and they'll move to within a point of their arch rivals, with two games still to play. Lose, however, and the Gunners will be guaranteed a top-four spot … and Mikel Arteta's men can take heart from a confidence-boosting sequence of their own, having won their last four matches, a run that includes away victories at Chelsea and West Ham. A third London derby victory in a row? Well, good luck correctly predicting the outcome of that, too, because Arsenal can do erratic like the best of them, their current four-game winning streak coming off the back of four losses in five.
The current standings look like this …
… so the stakes could only be higher if this was a shootout for the title. Kick off is at 7.45pm. It's on!