74 min: Simon McMahon gets in touch: "Hello John. I've not seen any of the game, just the score, but as we say up here this is a minter for Scotland. Embarrassing. An absolutely shocking result. Whisky here I come. Though it would appear some of the Scotland players might have beaten me to it."
They've been shocking right enough. Off goes McKenna, who looked to have a knock, and on comes John Souttar to partner Grant Hanley.
72 min: Ireland make a change. Jason Knight goes off, having played very well in midfield and on comes Conor Hourihane, the free agent who left Aston Villa yesterday.
70 min: Kieran Coughlan gets in touch: "Boss Man Threeo." Very good.
69 min: Gordon has to stop a Parrott cross that was heading right for Hogan. It's all Ireland.
68 min: Collins again steps forward and plays in Parrott, who almost sets away an overload down the left, his pass just letting the side down. Scotland, again, all over the show. Then Scott Hogan chases Scott McKenna into distraction. Hogan has really put himself about since replacing Obafemi.
66 min: Stuart, perhaps a Caledonian gentleman, gets in touch: "Ha, well, we don't even care about this silly competition anyway, so there !!!"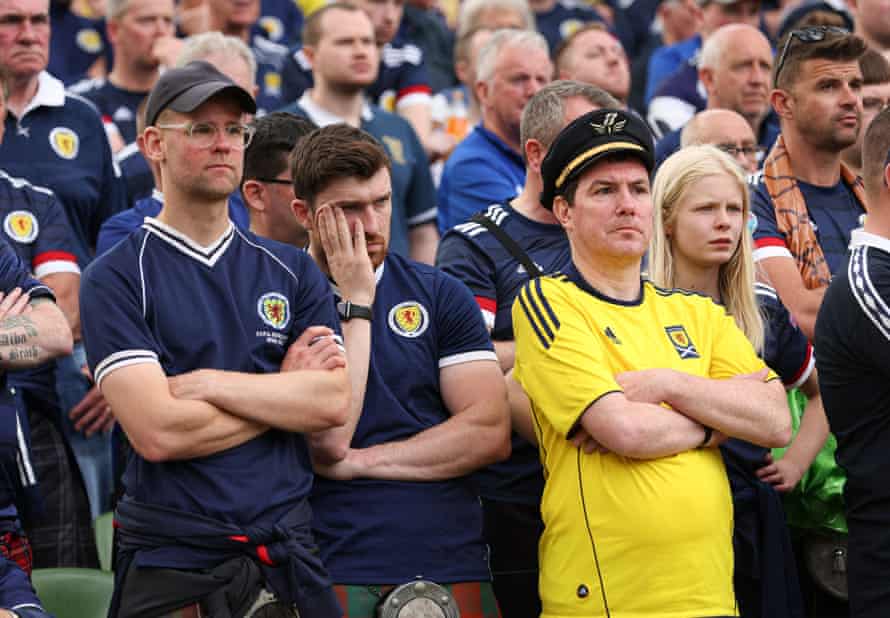 65 min: Hogan chases down the ball when it's played back to Gordon and to huge cheers from the home fans. Ireland believe in their team and the fans are cheering on every last chase and hustle.
64 min: How did Hanley keep that out? Amazing. Meanwhile, he is put through his paces by Duffy on another corner. Scotland are being bested in all departments here. Ireland continue to flush with confidence.
62 min: Ireland almost score again, Hogan climbing highest, and then the ball is cleared off the line by Hanley. It looks over, and the goalline tech seems to have missed it. The ref asks for a check, as instructed by the VAR. It's not given, it must have been so so tight.
60 min: Steve Clarke really not happy, then. Those are three of his most influential players, and he's either had enough, or resting them for the next game.
59 min: Three Scotland changes: off go McGinn, on comes Armstrong. Off goes Adams, on comes Stewart, off goes Christie, on comes Brown.
57 min: Suddenly Parrott has lots of space, but then Gilmour smashes through the back of him. No foul, apparently.
56 min: Steve Clarke unamused on the sidelines. And it looks like the show is over for Obafemi, who looks to have pulled his groin muscle, perhaps in the act of thrashing the ball home. He's roared off the field as he goes. One goal, another assist, what a fine first start for your country. On comes Scott Hogan instead.
52 min: As a friend just remarked, it you want to think of a goal like that, then Didier Drogba's classic v Everton is the one it reminds of. Full marks for Molumby and Browne for forcing the ball out for Obafemi to do the rest.
Goal! Ireland 3-0 Scotland (Obafemi, 51)
Ireland seem a little circumspect, by contrast to what came in the first half. They are perhaps waiting to send their speedy front two away…hang on, what's this, the ball drops to Obafemi after Gilmour is robbed and the striker smashes a shot past Gordon and in, his first for his country, a screamer. Oh Ireland! Oh yes! Oh Steo!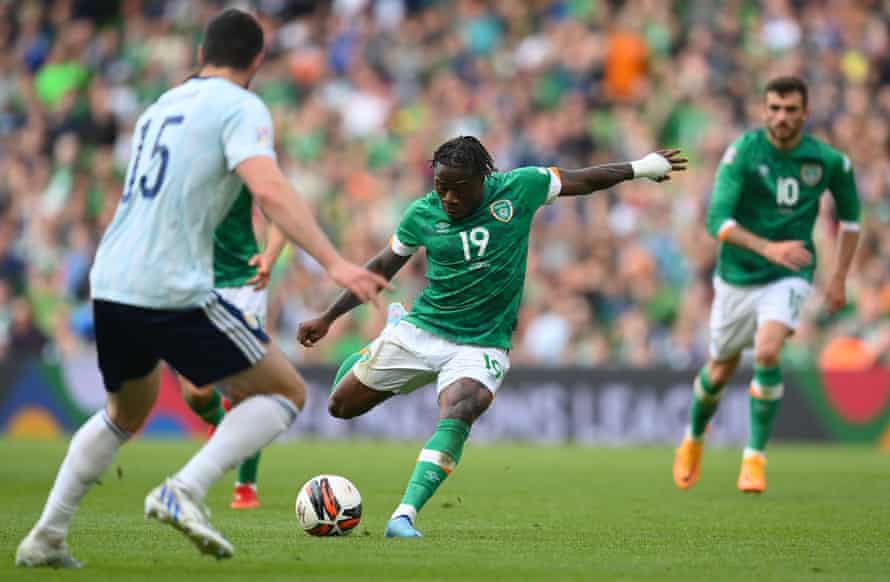 48 min: Duffy climbs highest to clear the header. As will always be expected.
47 min: Scotland zipping around with the greater intent. a mirror of what happened with Ireland in the first half. Robertson speeds along down the flank, past Browne, and Duffy has to come across to knock behind.
46 min: Ireland take quite a while over a throw-in. Timewasting already? Seems a bit risky and unnecessary.
We're back underway and birthday boy Billy Gilmour has replaced Jack Hendry, as Steve Clarke adds ballast to the midfield where Jasons Knight and Molumby had been doing very well for Ireland.
JR in Illinois gets in touch: "After the FAI "succession" plan elevated Kenny to manager he declined to bring Obafemi back into the squad. I believe his reasoning had something to do with Obafemi 's playing style not fitting with the way Kenny wanted to line up the team. I seem to remember calling BS at the time and I think most people were surprised Obafemi was being left out. That decision isn't looking the very best right now. What has Kenny changed that allows Obafemi to fit in now?"
Before the game, the Bossman was talking of how now that Obafemi is getting a game at Swansea and scoring goals then he has to be given a chance. It seems to be working out today, his first start, but yes, hard not to wonder why he wasn't trusted before.
Half-time: Ireland 2-0 Scotland
Ireland have been excellent, dangerous in possession and in the air, while Scotland have been squeezed to distraction. They have only looked dangerous whenever Ireland choose to pass the ball around the back at goal kicks. In his 25th match in charge, Stephen Kenny is halfway to a famous victory.
45 min: Steve Clarke can be heard urging on his players. Che Adams, the lone striker, has had a tough time of it. Just a minute added of a breathless half. It concludes with a free-kick to Scotland, McGinn whips it from the wing, and then Obafemi tries to make another escape. Ireland so dangerous on the break with his and Troy Parrott's pace. That's the final action of the half.
43 min: Scotland create an overload down the left, but Browne, who has had a fine game, cuts out the Robertson cross. When Ireland break quickly from the corner, though Knight, he is fouled by Christie who takes the booking. Without it, Knight was away.
42 min: James McClean dishes out a typical tackle on Ralston and then goes and apologises for his zest.
40 min: Robertson clatters Browne, lucky to be not pulled up for a foul. Scotland play on, and force a corner. Christie takes, Kelleher punches clear. Scotland pushed back as they try to find a way back into the game. Robertson makes a hash of a cross and is jeered by the home fans for it.
39 min: Ireland have been really good. This must be the best they have played under Stephen Kenny.
38 min: Knight surges on, his shot deflected off for a corner. McClean takes, Duffy the target and he heads down and Collins knocks behind. It could have been three; Duffy has the beating of McKenna in the air. Then comes in another, and Hanley has to stop Duffy, the dreadnought Scotland cannot deal with. The pressure is only released when Gordon is ruled to have been fouled by Obafemi, Scotland all at sea under the bombardment.
35 min: Josh Reynolds gets in touch: "Nathan Collins was a great player for us at Stoke and it's a real pleasure to see him getting on so well."
He really does look the part.
33 min: Collins does well, taking the ball from Adams, Scotland's attackers really struggling to get much time to create anything. Still, McTominay has chance to boom in a corner, and Duffy climbs highest. The ball comes out to McGregor who shanks it out.
31 min: Scotland look stunned. Both Ireland goals came not long after McGinn should probably have scored for them. Steve Clarke looks even more dour than usual.
29 min: Obafemi and Parrott linking so well for that goal, and suddenly Ireland's future under the Bossman Steo looks very bright indeed.
Goal! Ireland 2-0 Scotland (Parrott, 28)
Wow, two Ireland goals. Obafemi controls the ball, pivots and chips it through for Parrott to score. That was a beautiful goal.
27 min: Ireland try to play out again. Shane Duffy caught out again, and John McGinn again missing. Why do they keep doing this? Duffy can be a fine player, but he is not suited to that.
26 min: Dreadful corner from McTominay, it goes out to the other side bouncing once.
25 min: Scotland try to get back into it, passing the ball patiently to boos from those in green in the stands. Browne steps across to head a Ralston corner behind.
23 min: Good run from Collins causes problems for Scotland. Ireland have played well here. Scotland have been discomfited. Nathan Collins looks a great prospect. And probably won't be playing for Burnley in the Championship next season.
21 min: It looked to have come off Browne's hip, and in, the Preston man never actually in control of the ball. It won't be an entry in 101 Great Goals but they all count, and Stephen Kenny's team find a goal for the first time in this Nations League tranche.
Goal! Ireland 1-0 Scotland (Browne, 20)
McClean curls in from the flank, Obafemi stoops to nod in, only for Scott Mckenna's header to direct it off. Then comes the corner. McClean takes, Duffy nods back across goal and Browne walks the ball into the net.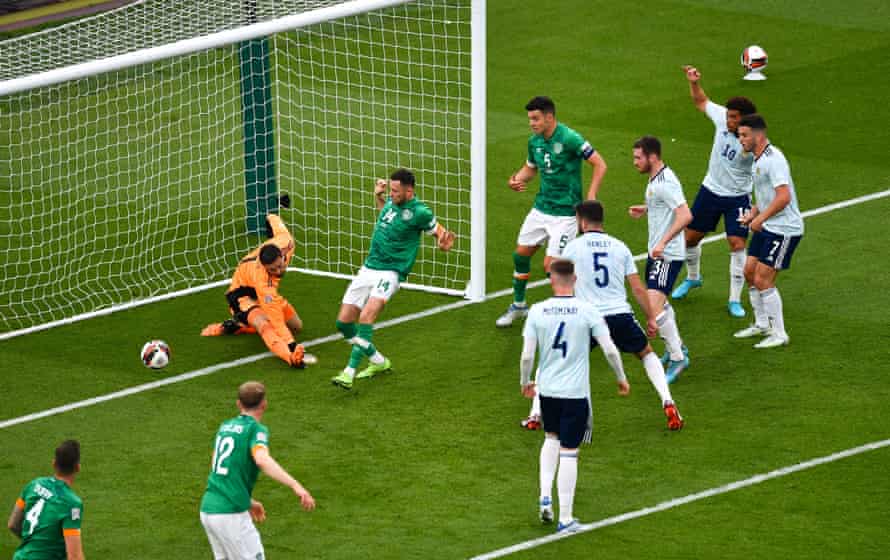 17 min: Paul Van Salle gets in touch: "For Scotland, Grant Hanley and Scott McTominay come in for John Souttar and Stuart Armstrong, ahead of Billy Gilmour. A glance at social media suggests this is not a popular selection, though Gilmour's fitness is perhaps a little lacking.
"John, It's Billy's 21st birthday!. Presumably the manager didn't want to spoil his fun weekend by making him run around . . ."
Happy birthday, wee Billy, keys to the door.
16 min: Josh Cullen plays in Parrott, then Browne gallops on and has a shot blocked before Ireland pass it around. On the sideline, the Bossman can be heard urging his players to take on their opponent.
14 min: Ireland are determined to play from the back, and it's setting a few hearts a-flutter among their fans.
12 min: A first real attack for Scotland, with Ryan Christie at its epicentre, and Ralston is sent down the flanks, pinging in a cross that's cleared away, though the space had been left gaping. Ireland were opened up rather easily. Robertson charges in and Browne blocks him…then Ireland make a horrible mess and John McGinn might have done better. Kelleher and Duffy played the ball out from the back and should have been punished.
10 min: Michael Obafemi is running around an awful lot, pressing from the front. The ball goes to McClean who wafts a cross out from the line. That was a waste.
8 min: After that start, it's slowed down a little. That may worry Stephen Kenny, as much the same happened against Ukraine.
6 min: Scotland try to get their breath back, as John Egan tries to get Troy Parrott away. There's not much space out there. All very squeezed with Jason Knight adding numbers to the midfield for Ireland.
4 min: Gordon makes a fine low save as Browne fires in a shot. Ireland have begun with real zest. Shane Duffy has loped forward to get involved, with Scotland pinned back.
3 min: McTominay does come back on, if a tad gingerly though he gets involved in a midfield stramash. He'll be OK. The pace is already high, the ball seems to be bouncing around a bit.
1 min: And away we go in Ireland. Jason Knight seems to have tucked into midfield, and then loses the ball and clatters into Scott McTominay, who seems in serious pain. That looks nasty, his ankle seemed to turn.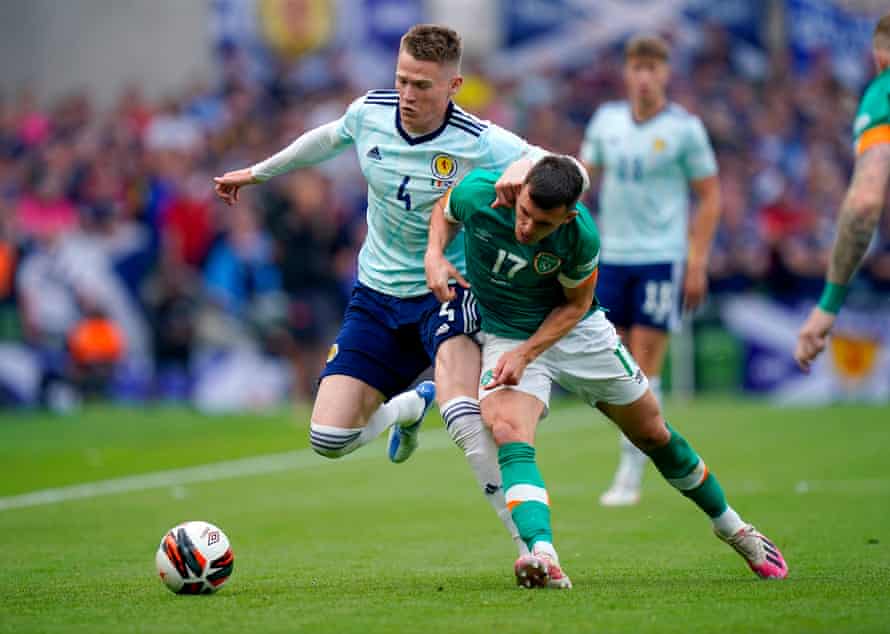 Flower of Scotland rings out, followed by Amhrán na bhFiann. Loud roars follow both.
The players emerge at a sold-out Aviva Stadium, the Tartan Army have travelled in numbers. The Premier Sports commentator talks of "kilts swimming in the Dublin streets". An enduring image.
Steve Clarke speaks to Premier Sports.
It's just about getting back on the bike and going again. Now we look forward to another tough game, should be a great atmosphere and both teams should feed off that. [On team selection] Normal rotation, and try to have a little bit of continuity. Ee have developed a strong squad. [Ireland] are going to work hard, and put you under pressure, tough game.
Stephen Kenny speaks to Premier Sports.
It's such a quick turnaround, we've refreshed with the five changes. We are disappointed, we were on a good run, one defeat in 12, and we have managed to lose both games without conceding a chance in either game. We had had a lot of the play but we haven't used the possession. It's a big test, we know Scotland have had a good time, a lot of players playing at the top of the Premier League. If we were to beat Scotland it would be the biggest result here in this stadium in seven years. We are up against it, Scotland have a formidable line up and we have to be at out best.
In his RTE interview, he uses much the same line that the last team, other than Qatar, the Irish beat who were higher than them in the Fifa rankings was Bosnia seven years ago.
To top this second-tier group, Scotland will have to top Ukraine, who have beaten Armenia this afternoon when playing their home match in Poland.
How did it go last time out for these two teams?
Not well for Ireland.
Better for Scotland.
What does that mean? James McClean gets his 93rd cap, and that surely means he is going for 100 caps. The Bossman has made sweeping changes, with a youthful attacking lineup of Troy Parrott, Michael Obafemi and Jason Knight. Jason Molumby, now of West Brom after his loan there from Brighton, steps into midfield. For Scotland, Grant Hanley and Scott McTominay come in for John Souttar and Stuart Armstrong, ahead of Billy Gilmour. A glance at social media suggests this is not a popular selection, though Gilmour's fitness is perhaps a little lacking.
Anyway, Grant Hanley gives us opportunity to retool this classic from Birkenhead's finest.
Scotland: Gordon, Hendry, Hanley, McKenna, Ralston, McTominay, McGregor, Robertson, McGinn, Christie, Adams. Subs: McCrorie, Kelly, Patterson, Souttar, Stewart, Gilmour, Taylor, Armstrong, Turnbull, Brown, Campbell, Hickey.
Ireland: Kelleher, N Collins, Duffy, Egan, McClean, Browne, Cullen, Molumby, Parrott, Obafemi, Knight. Subs: O'Leary, Travers, Christie, Stevens, Robinson, Hourihane, Keane, Hendrick, O'Shea, Hogan, Hamilton, Lenihan.
Bloody hell, the football's still on. The Nations League continues with this battle of Celtic soul brothers, and there's a little riding on it, namely the credibility of Stephen Kenny, Ireland's manager, the Bossman Steo to those in the know, the Lossman Steo for those beginning to think that Ireland's footballing cultural revolution has stalled. Losing to Ukraine's second team on Wednesday was not much fun, and neither was the defeat in Armenia that preceded that. Scoring goals is a sincere problem, as is creativity in midfield. And there are those who wonder why the likes of Cyrus Christie and James McClean are still getting a runout.
At present, there's far less pressure on Steve Clarke, the Caledonian manager, but Scotland are licking their wounds from their own defeat to Ukraine, in that playoff for a playoff that cost them a place in Qatar this November. A semblance of pride was saved by the midweek win over Armenia.
The last time these teams met was in 2015, a 1-1 draw in Dublin, and it was a dreadful game. Despite their geographical proximity they've met only eleven times, with four wins each. Two teams with similar ambitions, similar problems but Scotland having been rather more successful of late.
Oh yeah, and there's Nations League points on the board in Group E, where Scotland head the table. Ireland are still yet to win a single Nations League match in its three iterations so far. Oh Steo.
Kickoff is at 5pm. Join me.