Key events
45+2 mins: Another Qatar booking, for Ahmed after a horribly unsubtle late lunge at Koulibaly.
45 mins: We'll have seven long minutes of stoppage time
44 mins: Barsham blooters a goalkick out of play on the right, and Mohamed hurts himself in a clash going for it with his teammate Pedro Miguel. Someone needed to shout for that. Qatar's level has dipped in the last 10 minutes after a better start.
Khouckhi miskicked a clearance inside the area, slipped and Dia pounced in an instant, rifling a low drive under the keeper. Senegal are off the mark.
Goal! Qatar 0-1 Senegal (Dia 41)
It's been coming. Horrible mistake though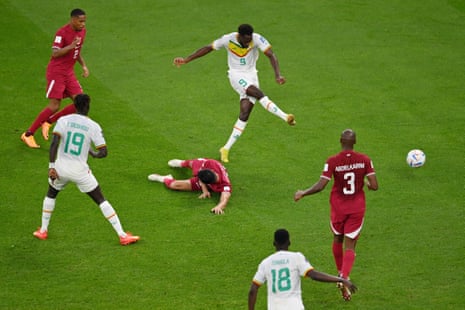 38 mins: Ahmed puts al-Haydos through on the left with a lovely sand-wedge of a pass but the captain can't beat his man. But Barsham then almost plays himself into trouble when he stumbles with ball at feet just outside the area, and Senegal are in the ascendance again. Barsham does look nervy too. Senegal should probably put him under more pressure.
36 mins: Nice interchange from Sarr and Diedhou plays the latter in just inside the area but he hesitates a fraction and Qatar clear. Senegal need to start making this count. Once again, that Mané-less cutting-edge issue dogs them.
34 mins: Penalty shout for Qatar! Madibo is neatly played in after a give and go on the left side of the area and Sarr bundles him over. He shuns VAR and Senegal are extremely lucky there, even though a home goal would have been absurdly against the run of play.
32 mins: Ahmed needs lengthy treatment after that foul but he's OK to continue.
"Senegal are still probably too good for Qatar," writes Kári Tulinius, "but it's remarkable how much more alert and aggressive Qatar is, in comparison to the opening game. If they'd played like this then, it would at least have been a contest. Ecuador may end up gaining the most from a World Cup host buckling under pressure since Germany in 2014." What are people's favourite host-chokes? Italy v Argentina 90 was a memorable one. Spain v N Ireland 82? though they still got through.
30 mins: Barsham has a wobblier moment as he races rashly out to a long ball for Sarr but the forward can't make it count and Qatar clear. Then Dia is booked foro bringing down Ahmed on halfway
28 mins … which comes to nothing. Senegal come again and Barsham comes out for a confidence-boosting punch clear, but Sabaly picks up and sends a fierce volley wide.
27 mins: A neat run down the right from Mohamed but his low ball in is smartly intercepted by Koulibaly. Senegal go straight up the other end and win a corner …
26 mins: Another Qatar shot! Hasan belts one from just left of the area, and again a clear deflection is missed by the officials. Goalkick
24 mins: Ahmed brings down Sabaly, again done for pace, and Qatar need to be careful with that. After which Gueye skims a low shot just past the post. Best chance so far.
20 mins: Afif looks sprightly down the right and marauds down that flank again winning an attacking throw near the corner flag but Senegal are quick to break and Ismail Mohamad receives the first booking of the game for illegally halting said break.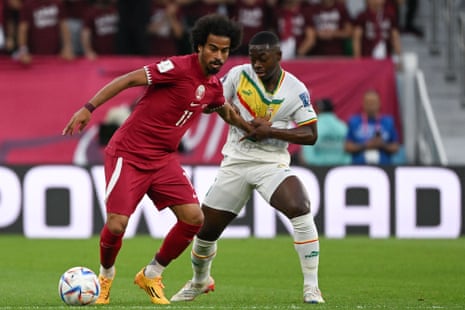 18 mins: Senegal go straight up the other end and Diatta wins a corner on the left. It's a menacing one and Barsham, the keeper, is outjumped but it's headed wide by Diedhou. And Barsham took a blow, and needs treatment. But he's on his feet within a couple of minutes and can continue.
15 mins: Qatar win a free-kick in a decent position, Afif lobs it in, it's cleared but it eventually comes back to him just outside the area but he can't get on top of the bounce and blasts over and Qatar still seek their first shot on target of the tournament. Better from the hosts though.
13 mins: The final ball is not quite coming off for Senegal yet with Sabaly overhitting a pass down the right for Gueye.
Meanwhile, Cold War Steve has done a thing for us:
12 mins: Mendy wins the ball in midfield and drives forward to lob a pass in the direction of Diatta but he can't get a decent ball in and Qatar clear. Senegal well on top already here.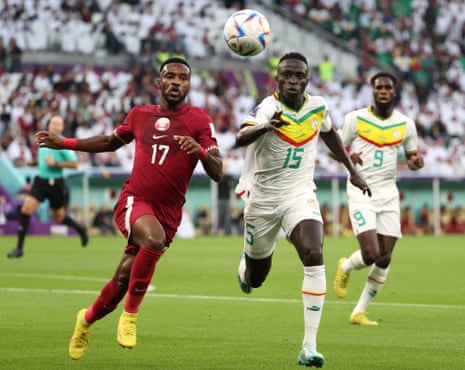 10 mins: A half-opening for Qatar as Hamam probes on the inside left, but it gets away from him and runs out for a goalkick. Senegal's outnumbered fans are making a decent old racket, band in good nick.
9 mins: Diatta, who's switched from right to left for this game, gets free down the left and wins a throw. It's worked out right and the cross finds Diedhou in space but he's a bit slovenly and his shot is blocked and comes out to Dia (I think) who fires wide.
7 mins: Qatar are keeping their shape better than they did in Sunday's first half from hell and eventually attack through Afif who excites the crowd with a run down the left but he lacks support and Senegal clear.
4 mins: Sabaly initiates another attack with some adept juggling on the inside right and it's eventually worked out to Sarr who wriggles inside the right of area and his shot is deflected into the side netting. But he doesn't get the corner he should have.
3 mins: Qatar look to be playing 3-5-2, boldly, but Senegal have the first sustained spell of possession but waste it when Sabaly nods tamely out of play down their right
Peep! And Qatar get us under way.
The teams are out. The stadium isn't completely full but it's still filling up, Qatar's fans waving their uniform flags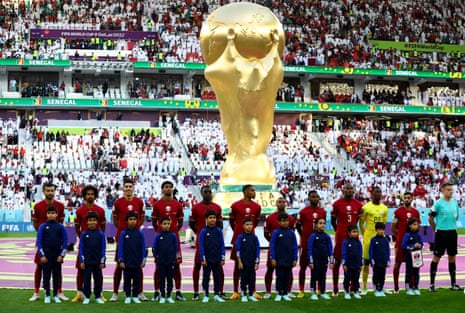 Things you may not know: Qatar's keeper, Meshaal Barsham is the brother of the high jump Olympic champion Mutaz Essa Barshim, Gary Lineker on the Beeb informs us.
Before we start …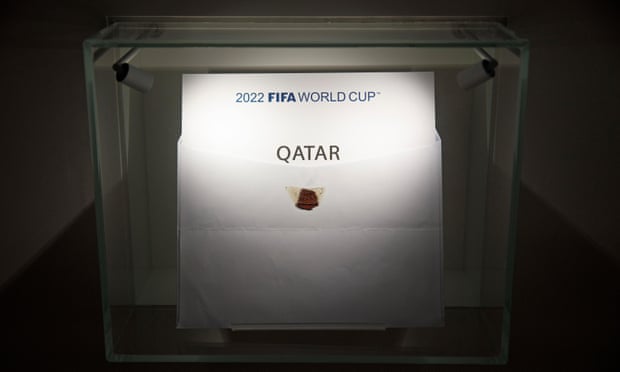 "Now that Wales has lost to Iran can the USMNT defeat England today?" asks Kurt Perleberg. They could yes, if they build on their impressive first half against Wales and England lapse into the form they were in before Monday. I fancy the USA to score at least, and though England should win a draw isn't a bad shout. A USA win would properly jigger Wales's chances though.
Back to the game in front of us, Qatar might take heart from Iran's display: if Carlos Queiroz's side can recover from a catastrophic and politically-charged opener, so might they.
Off the field, crusader costumes are the latest items to be reportedly banned, though frankly I'm playing the smallest violin in the world for anyone in that crass and insensitive get-up. Here's a guide to what's not allowed.
Fancy a bit of Senegal nostalgia? How's about one of the best games of Japan/South Korea 2002?
Your lunchtime reading:
Goal! Wales 0-2 Iran. It gets worse for Robert Page's side but Iran have deserved this – they've been excellent. And there's full-time.
Back to this one, and those lineups: the Qatar goalkeeper Saad Al-Sheeb makes way for Meshaal Barsham, unsurprisingly after his jittery display against Ecuador. For Senegal Ismail Jakobs comes into the defence for the injured Cheikhou Kouyaté and Pape Abou Cisse is replaced by Famara Diedhiou.
Goal! Wales 0-1 Iran – Iran have won it at the last.
Qatar: Barsham, Pedro Miguel, Mohammad, Khoukhi, Abdelkarim Hassan, Ahmed, Al-Haydos, Boudiaf, Madibo, Ali, Afif
Senegal: Edouard Mendy, Sabaly, Koulibaly, Jakobs, Diallo, Idrissa Gueye, Nampalys Mendy, Diatta, Diedhiou, Ismaila Sarr, Dia.
Or has he? A VAR check does for him and he has to go for clattering Taremi when the forward was clean through. Wales are down to 10 men.
And in Group B, a tense old encounter is entering its closing stages. With Wayne Hennessey somehow escaping with only a yellow card just now …
Some essential pre-match reading:
Hello everyone, and welcome to our second World Cup game of the day. It pits the respective Asian and African champions against each other, each of whom lost their opening matches 0-2. At which point, you might argue, the similarities end. While Senegal looked sprightly and competitive against the Netherlands, particularly early on, and were undone mainly by a lack of cutting edge up front, Qatar turned in a rabbits-trapped-in-headlights non-performance against Ecuador, and were lucky their opponents declared at half-time. All that Aspire academy cash, all those gifted places in other tournaments, including this one as hosts, all that unsavoury geopolitical positioning – and for that?
"Emotionally, things were very difficult, and dealing with the World Cup is completely different. I hope that the performance will be as competitive against Senegal," admitted their manager, Felix Sánchez, yesterday, adding: "We prepared ourselves for the possibility of an early exit, but this does not mean the end of the project. I am confident that Qatar will continue their project to maintain a strong team, compete and qualify for the upcoming tournaments." Ah yes, Projects. Always with the Projects.
Anyway, Qatar almost certainly won't play as poorly again, and they have shown some pedigree in recent times. Senegal, you fancy, have more though but they sorely missed Sadio Mané against the Dutch. They will also be sweating on the full match-fitness of Cheikhou Kouyaté and Abdou Diallo, important cogs in the team who were forced off in Monday's match with niggles. In as much as we can generalise, there does seem to be an early pattern of African teams struggling to score despite plenty of quality and attacking intent. Will that pattern shift here?
Kick off 1pm GMT.