Key events
From Lahore to Leeds… meanwhile at Headingley:
Tanya is over on the county blog calling the final knockings of the season.
10th over: Pakistan 66-3 (Rizwan 24, Iftikhar 13) Sam Curran sends down a tidy over and that's drinks. England on top after the first ten.
9th over: Pakistan 59-3 (Rizwan 23, Iftikhar 7) Iftikhar drives handsomely to get a lesser spotted boundary for his side. Rashid is then flatter and skids the ball on under lights. Seven runs off the over.
Ed Matkin emails in and brings a chuckle:
"I had a summer job at a biscuit factory. Worked in the "crumb room". We had to bag up crumbs to be recycled into new biscuits. About 20 seconds work every 3 minutes. The rest of the time we played cricket or raced around on pallet lifters which made excellent scooters."
So many questions, Ed.
The Crumb Room is fantastic. Decent name for a band and also an accurate description of my increasingly Bourbon flecked lounge.
8th over: Pakistan 52-3 (Rizwan 21, Iftikhar 1) Three runs and a wicket off the over, Wood has 2-5 off his two overs so far. Priceless.
WICKET! Haider Ali c&b Wood 5 (Pakistan 52-3)
Wood strikes with another short one! Haider Ali can't take the pace and spoons up a return catch.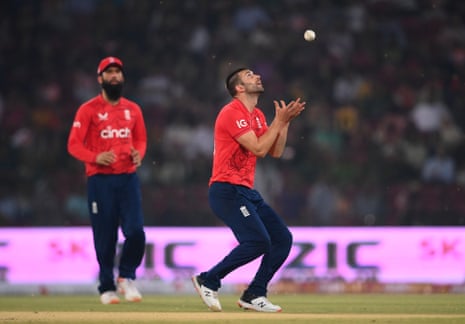 7th over: Pakistan 49-2 (Rizwan 21, Haider Ali 4) Adil Rashid into the attack and he starts well, grip and loop and drift. Just six runs off the over as England put the squeeze on.
WICKET Masood ct Wood b Willey 9 (Pakistan 42-2)
Willey looks Charles Dagnall ('daggers') at Alex Hales who drops Rizwan at mid-off. A simple chance shelled. Hales has had margarine mitts in this field this series. Rizwan plonks the next ball for SIX too! A single brings Masood on strike and he falls in a soft fashion – a leading edge on a slower ball that loops to gully. England on top in the powerplay.
6th over: Pakistan 43-2 (Rizwan 19, Haider Ali 0)
Chris Woakes for Chancellor?
5th over: Pakistan 33-1 (Rizwan 7, Masood 9) Sam of the Currans into the attack with his skiddy left arm and peroxide barnet. He drops short twice and both Masood and Rizwan get away with top edges that fall just shy of the fielder. Masood connects with the last one though and pulls away powerfully for four. Only the second Pakistan boundary of the innings.
Tom Evershed emails in and he's up for some biscuit-based chat:
"Delighted to hear you've breached the bourbons. Often underestimated, they are such a fine biscuit. Not all bourbons are the same, of course. I fondly recall the magnificent Happy Shopper bourbons; and back in the late 1980s I'd scoff a packet of FineFare bourbon creams every day. It set me up for life."
I had some custard cremes yesterday too. And don't get me started on fruit shortcakes Tom…
4th over: Pakistan 22-1 (Rizwan 7, Masood 2) So Wood gets Babar for the second time in the series. His pace is such an asset for England and it's great to see him back and bowling with that cheshire cat smile on his face. Woakes back into the attack and he's back to his miserly best. A mix up! Rizwan is stranded mid-pitch, the throw from the fielder would have seen him miles out if it had hit the stumps… instead it clonks right into Rizwan's lower back as he struggles for his ground. Ouch. The 'magic spray' is called for. I love the smell of Deep Heat in the morning evening.
WICKET! Babar c Duckett b Wood 9 (Pakistan 17-1)
Wood slams the ball down into the middle of the pitch, hurrying the batters with his pace. Just the one boundary so far for Pakistan… and Wood gets the breakthrough! Another short ball and Babar gets a top edge off an attempted pull that is swallowed easily by Duckett on the square-leg boundary. First blood to Wood and England.
3rd over: Pakistan 17-1 (Rizwan 3, Masood 0)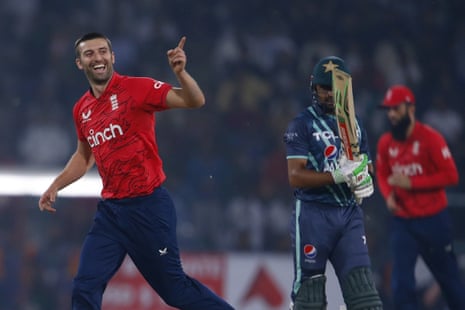 2nd over: Pakistan 13-0 (Babar 7, Rizwan 3) David Willey searches for some southpaw swing from the other end but there doesn't seem to be much doing. He also struggles with his radar, spearing down a couple of big leg side wides. Babar and Rizwan happy to accumulate. Ooh look – Mark Wood is coming on. Hold on to your stovepipe.
1st over: Pakistan 7-0 (Babar 6, Rizwan 1) Woakes starts with a leg-side half volley to Rizwan who flicks for a single. Babar pulls a short ball for a couple but then unfurls a lovely on drive off a full ball to score the first boundary of the innings. Woakes a bit rusty, searching for swing but little to be found on first evidence.
I've breached a packet of bourbon biscuits and am settling in for another run-fest, short boundaries and the pitch looks a belter despite the rain of yesterday.
The players are heading out onto the field. There are lots of flying critters by the looks of it, winged things showing up under beam of the floodlights. CHRIS WOAKES is going to open the bowling – it's been a while since we've been able to type that on the OBO. He's got a slip in place. The stadium is packed and the atmosphere is crackling. Let's play!
Borrower sized boundaries spotted in Lahore:
TEAMS:
FOUR changes for England: Dawid Malan, Sam of the Currans, Chris Woakes and Mark Wood are in for England.
Three changes for Pakistan, Shadab in for Qadir, and Jamal for Hasnain.
Pakistan: Babar Azam (c), Mohammad Rizwan, Shan Masood, Iftikhar Ahmed, Haider Ali, Asif Ali, Shadab Khan, Mohammad Nawaz, Aamer Jamal, Mohammad Wasim, Haris Rauf
England: Phil Salt, Alex Hales, Dawid Malan, Ben Duckett, Harry Brook, Moeen Ali (c), Sam Curran, Chris Woakes, David Willey, Adil Rashid, Mark Wood
England win the toss and will have a bowl
Moeen Ali calls correctly and inserts Pakistan. The outfield was underwater yesterday apparently, with groundsman hand-forking the turf to assist the drainage. The pitch looks good now though, but what do I know sat here 5412.766 miles away. I don't even have my car keys in my hand either. BUT It might not be a run plundering match like the last few. Famous last words…
Hello and welcome to the OBO of the fifth of seven T20Is between Pakistan and England from the Gadaffi Stadium in Lahore (by way of a sofa in south London).
There's always a danger that bilateral white ball series wind up to be almost instantly forgettable, lost to the relentless runaway train of global cricket, another notch on the games already heavily carved bedpost. But, this series hasn't felt like that. The sense of history has no doubt helped but so has the actual cricket on the field.
The two sides are evenly matched and locked at two wins apiece with three games left to play. We've had blistering batting, bamboozling spin, searing pace, close finishes and plenty of other narratives running alongside. The longer series has allowed for these to play out and add to the intrigue.
As Autumn starts to bite here in the UK, a season of mist, mellow fruitfulness and the tanking pound upon us, it's nice to hunker down and have cricket as distraction and comfort. There's a warmth to it, which is just as well as the heating isn't going on in our flat until November is breached ("Put a jumper on… another one!")
Last night I curled up with The Unquiet Ones – Osman Samiuddin's excellent book on the history of Pakistan cricket. A chapter entitled 'The Fields of Lahore' is beautifully evocative on Minto Park (now Greater Iqbal Park) the cradle of cricket on the north western fringe of the city that lies about 30 minutes away from the Gadaffi stadium.
"There are few more symbolic pieces of real estate in Pakistan… little about the park now suggests such momentousness. It doesn't look epic or symbolic. The grass is green but not lush, and the mix of petrol fumes and cow manure is sharp. The pitches are mostly cement. Randomly dotted around the park on any day are a stream of informal games criss-crossing each other, where once were played matches that people still remember today. Even then, one game's slip was always another game's deep square leg."
To Pakistan's second city then for this fifth game. Play is due to begin at 3.30pm BST, I'll be back with news of the teams and the toss very shortly.
As ever it would be lovely to hear from you, you can get in touch by Email or tweeting @Jimbo_Cricket.