ISL Season 8: NorthEast United ended their Indian Super League 2021-22 campaign with a gritty 1-1 draw against SC East Bengal in a battle of bottom dwellers. Marco Sahanek scored the opening goal for the Highlanders but it was soon cancelled by a spot-kick from Antonio Perosevic. Follow ISL 2021-22 LIVE Updates only on InsideSport.IN
NorthEast United head coach Khalid Jamil was disappointed with his team's performances and admitted that they did not meet the expectations in their current campaign. However, the Indian tactician was happy that at least his team came up with a draw and will not be finishing at the bottom of the points table.
We end our season with a draw! #SCEBNEU #StrongerAsOne #TogetherWeAreInfinite pic.twitter.com/RwOMPiK7Hl

— NorthEast United FC (@NEUtdFC) February 28, 2022
Speaking on his team not finishing last, Khalid Jamil said, "Yeah, that is also there, it is good that at least we drew and we are up. It is good motivation for the players."
Khalid Jamil admitted that the biggest learning from this season was how he was given more than 7-8 games in the season. He shared how the league was more competitive this year and feels that it is good that all the players got their chances and it was good for experience.
"The biggest learning I've got is that I got more chances for seven-eight matches. We tried our best because in the ISL, there was a lot more tough competition this year. All the teams are good. So, we got this experience and the second thing, it is good that we tried all the players, and that is a good point. We gave everybody a chance to play," Khalid revealed.
Also read: HFC vs JFC: Hyderabad FC clash swords with Jamshedpur FC in a battle for the ISL Shield
Khalid still has another year left on his contract but he revealed how the owners wanted to win the cup this year but he did not manage to do that. He clarified how he is not blaming the players but he is mostly speaking about himself.
"Yeah, talking about this. Before we started the season, I spoke to John sir and Priya madam, and they told me that they want to win the cup. But unfortunately, I was not up to the mark this year. We, everybody tried. I'm not blaming the players, I'm talking about myself. But I tried my best, but the results were not favouring us. And talking about next year, yes I have one year contract with them and let's see what is the future," Khalid explained.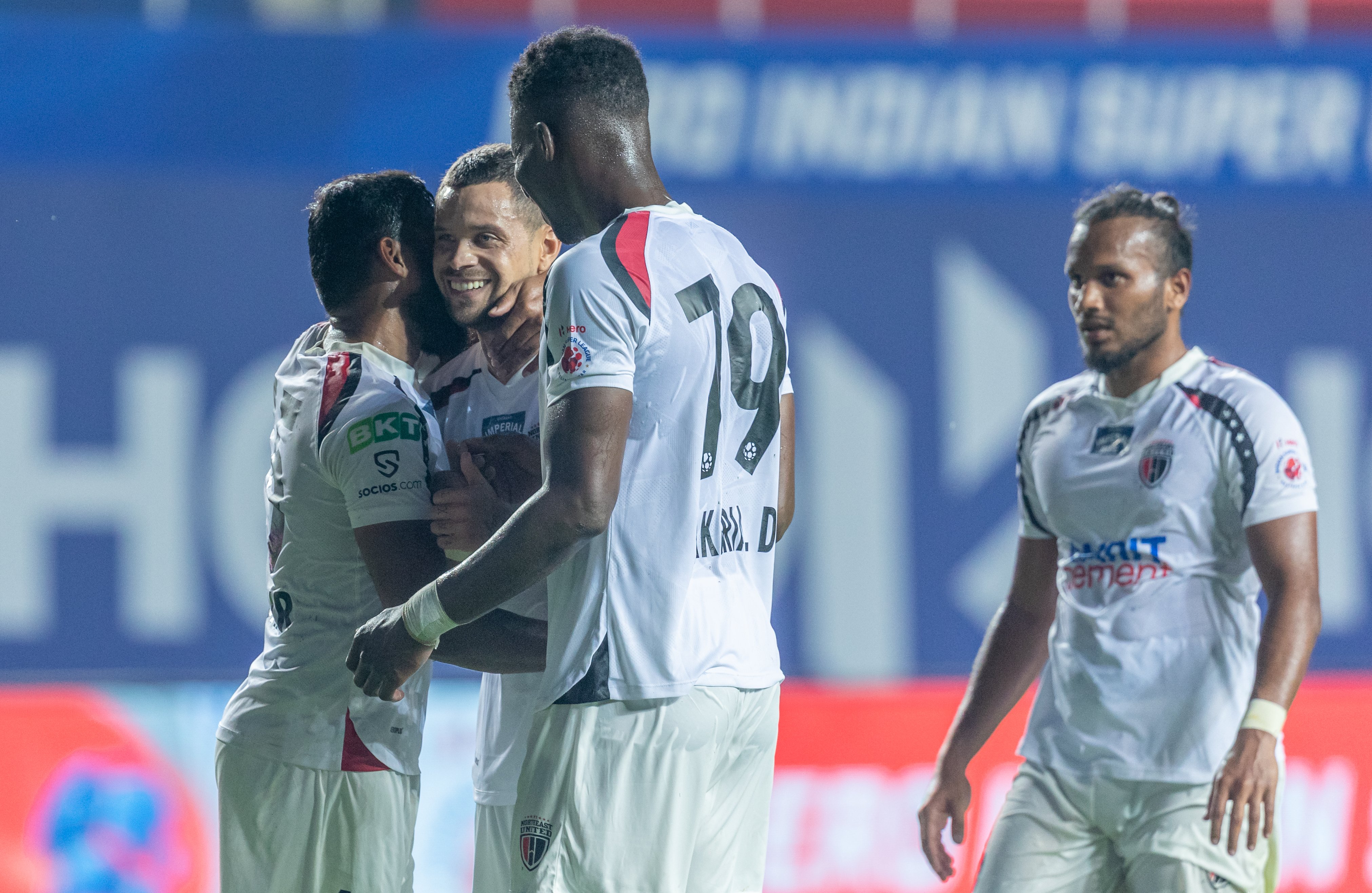 Reflecting on the season gone by, Khalid shared how the management gave everything but they struggled to their inability to win matches at the beginning and then some crucial players got injured derailing their season. Although he brought new players he shared how they also needed time to settle.
"Yeah, talking about the club. They gave us everything. Whatever I told them, they gave us. There is no complaint about it. Talking about this only it was a big problem in our football, that we didn't win the games initially. Then in the middle, we got injuries to some players. Then we brought in new players and they also need some time. Then I tried my best in seven-eight matches and then a new person came in and he also tried. So it was a mix," shared a disappointed Khalid Jamil.
Lastly, he shared a short message for the NorthEast United fans. He said, "Yeah, I just want to say that we are really disappointed here. But we have to take it as an experience. We have to bounce back again and everything will be fine if we work hard."
– Advertisement –