Key events
76 min Sosa advances down the left and lofts a cross to no one, but the game is more open now, which means Modric's influence is growing.
74 min "Barry Ragin's game," begins Robert Coates. "We used to do something similar (00s in Bognor), with yellow minis. Or any yellow car really, it was a boy's school so any excuse for a dead arm…"
I went to a mixed school where dead arms were also popular, but bicycle rides – taking the sideboard and twirling it around – and donkey bites – grabbing a chunk of flesh just above and inside the knee – were also common.
73 min This time, Modric picks out Bono and Morocco counter, Ezzalzouli weaving forward at speed with Attiyay Allah outside him. But he doesn't fancy the pass so shimmies infield instead, hoping to create a shooting lane, only to be crowded out.
71 min Modric's delivery is beautiful, forcing Aguerd – I think – to leap into a poke behind, facing his own goal, to concede a corner … which yields another, Livaja leaping high and forcing Aguerd to nod behind.
70 min Croatia are patient, though, and when Modric finds Juranovic, Ezzalzouli isn't, shoving him in the back. Free-kick Croatia out on the right touchline, 35 yards from goal – and before it, Livaja replaces Kramaric.
69 min A bit of Croatia possession as the Moroccans in the crowd whistle their disapproval; Morocco's defensive spacing, though, is excellent, shutting down angles and pockets between the lines.
67 min Morocco give it away to Modric, but he can't pick a telling pass, and here's my derash on him: he's still good enough to be good playing with brilliant players at Madrid, but I'm not sure he's still good enough to elevate a team like Croatia.
66 min Yup, here comes Ezzalzouli, replacing the anonymous Boufal.
65 min Ziyech casually shoves it inside and square, allowing Hakimi to accelerate onto it, and he absolutely explodes into a shot that Livkovic punches away! That was a proper effort.
63 min It might just be opening up ab bit, and when Amallah turns away from Modric, he wears a challenge on his phizog and Morocco have a free-kick 30 yards out, left of centre.
63 min But here comes Hakimi down the right, crossing low, but En Nesyri is ahead of the ball and can't collect it from behind him.
62 min Quality centre-forwards are useful; who knew. And that's the problem with this game: neither side really has one off who to play, or able to conjure space.
60 min Mazraoui is stretchered off, sitting up, and replaced by Attiyat Allah.
59 min Ach, Mazraoui is down again – I think he jiggered his pelvic performing that diving header. I'm not sure he'll be able to go on.
57 min "Just seen Wilko Johnson's death announced," returns Richard Hirst. "Must be worth an MBM tribute."
Believe. Godspeed, old mate.
55 min We're away again.
53 min Mazraoui needs treatment, but he'll be fine.
52 min It's a goodun too, Persic getting a flick and Bono doing really well to get down among the boots and find what he's looking for, the ball, before Lovren slides sideways and sends the ball at 90 degrees, towards goal … and Mazraoui blocks in front of the line.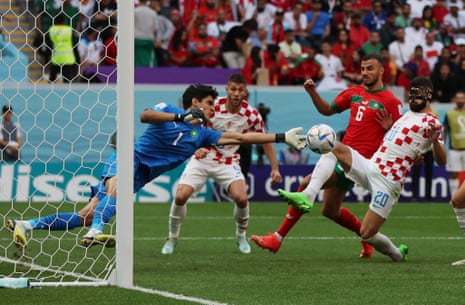 51 min Croatia counter, Modric lofting a fine ball out to Juraonvic who crosses well, earning a corner.
50 min And, as I type that, Boufal shoots … and does that hit Lovren's arm? In the meantime, Mazraoui dives to head at the far post and Livkovic saves, but that effort did hit the aforementioned arm – though it was close to the body. I'm happy with no penalty.
49 min It's been a slow start to the half, and neither side has loads on the bench to supply the missing edge. I do, though, wonder if Morocco might try Abdessamad Ezzalzouli at some point – but in the meantime, their press is keeping Croatia pinned inside their own half.
48 min "When my kids were small (late 80s/early 90s) in North Carolina," recounts Barry Ragin, "they and their cousins (New York-based) would play this game using e Beetles as the spotted object. I do not recall this from my own childhood. First one to see the VW would declare 'punch baggy (colour of car) no punchbacks!'' while punching your shoulder."
We're going to start a dead-arm epidemic here. I'm all for it!
46 min We go again – once Amrabat joins us – Croatia having replaced the presumably injured Vlasic with Pasalic
"One factor in how energetic the games have been is the lack of travel," says Kári Tulinius. "The teams aren't getting on a plane every three days and spending hours in the air. Instead they can rest and relax."
A London World Cup! Now we're chattin! Soon as this is done I'm calling Fifa and Sadiq.
I love the MBM part 1. Only joking, part 74,502. Here's Fredrik Lorentzson responding to Michel Lacquiere's question: "ISO 3166-1 alpha-3 codes are the three-letter country codes used. Often – almost always – derived from English names, but sometimes from another language, guess which? Ivory Coast is CIV, Morocco is MAR, Romania is ROU."
Great stuff, thanks.
"Morocco may have Bono in goal," says Joe Shelton, "but Croatia seem to have the edge in midfield … sorry."
Arf. I can't lie, Imade a mental note to find a suitable pun, but you've nailed it. On which point, Bono gave an interview to Vogue recently – it's wild in various aspects – but what really tickled me was him forgetting his wife's birthday then writing her a song to say sorry … the Sweetest Thing. Imagine that: Bono tells you he's written you a tune, and it's that dirge. You'd be livid! And the piece is worth clicking on, because after that yarn comes one of the great segues, a proper netbuster.
Half-time email: "I'd also favour the use of accents by commentators," says David Hopkins, "but why not take it a step further? I'd like to hear commentators adopting the appropriate regional accent depending on which England player is on the ball – north-east for Pickford or Henderson, north-west for Rashford, Brummie for Grealish etc. It'd be easier now than in 1990 of course, when a very thick Geordie accent would have been required for half the squad."
It's especially great when a player has a name ideal for their cadence – Terknee Merrbrey achieves the perfect aspect.
That was fast-paced and intense half, but a lack of quality in the final third – and some decent defending – means we've not had much in the way of goalmouth action. It should, though, open up after the break because both sides are trying to win.
HALF-TIME: Morocco 0-0 Croatia
That was pleasant.
45+2 min Here come Croatia again, Aguerd blocking Brozovic's shot, and the loose ball flies over to Modric, who leathers just over the top, left-footed, from 20 yards.