Port Vale are promoted to League One
As play-off finals go, it was fairly stress-free for Port Vale. Kian Harratt headed them in front on 20 minutes, before James Wilson doubled their lead with a header of his own four minutes later.
Already cruising, Port Vale's job was made easier when Mansfield Town had Ollie Hawkins sent off for two bookable offences 10 minutes before half-time. Mal Benning put the game beyond any doubt with the goal of the game five minutes from time.
Full time: Mansfield Town 0-3 Port Vale
Peep! Peep! Peeeeeeeeeeep! It's all over at Wembley, where Port Vale have won promotion to League One with an extremely comfortable win over Mansfield Town. Congratulations to Darrell Clarke and his men.
90 + 1 min: Port Vale's James Wilson is announced as the man of the match and it's no more than he deserves. He has looked a class above those around him.
88 min: Port Vale's two wing-backs combine to great effect to get their side's third goal. Worrall performed heroics to not only keep the ball in play at the byline, but send in a high cross. Running from midfield, Benning kept his eye on it as it dropped before volleying low past Nathan Bishop.
87 min: Port Vale substitution: Aaron Martin replaces David Worrall.
GOAL! Mansfield 0-3 Port Vale (Benning 85)
They're definitely going up now! Former Mansfield Town player Mal Benning makes a run from deep and volleys home a dropping cross dug out from the byline by David Worrall. It's his third goal of the season and it's a beauty.
84 min: "We are going up! We are going up!" sing the sizeable contingent of those in the 37,303 crowd supporting the team from the Potteries.
82 min: Mansfield goalkeeper Nathan Bishop is sold short by a bad backpass and has to scoop the ball clear under pressure from Garrity.
80 min: Into the final 10 minutes we go, with 10-man Mansfield still trailing by two goals. In his technical area, their manager Nigel Clough is pacing with his arms folded, looking decidedly fed-up.
79 min: Mansfield substitution: Lucas Akins comes on for Stephen Quinn.
78 min: Mansfield corner. Port Vale head the ball clear from Stephen Quinn's delivery.
76 min: Port Vale substitution: Jamie Proctor comes on for Kian Harratt, who opened the scoring after 20 minutes.
75 min: Oates is crowded off the ball just outside the Port Vale penalty area as Mansfield's desperation increases.
74 min: Mansfield advance again. Oates tries his luck from distance but drags a low, speculative diagonal well wide of the far post.
72 min: Good approach play from Mansfield, who almost pull a goal back. In the Port Vale goal, Aidan Stone does very well to beat Rhys Oates's shot away for a corner, which is subsequently cleared by Ben Garrity.
Another disallowed goal! Port Vale have another effort chalked off for offside, Charsley converting from seven or eight yards out after collecting a curled cross from Worrall. He was well offside.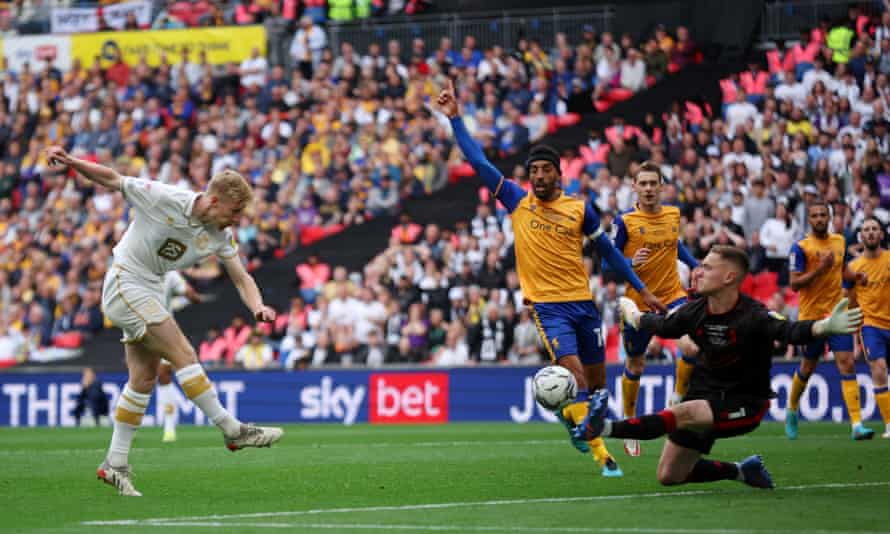 68 min: Just on to the pitch, Charsley massively overhits a pass up the inside right for Ben Garrity to chase. Mansfield goalkeeper Nathan Bishop collects.
67 min: Port Vale substitution: Harry Charsley, who began the season as a Mansfield Town player, on for Jake Taylor.
66 min: Mansfield substitution: George Maris on for Matty Longstaff.
DISALLOWED GOAL! From three or four yards out, Kian Harratt has the ball in the net for Port Vale after Nathan Bishop fumbled a shot at a corner but he's offside.
63 min: Port Vale advance with James Wilson riding a couple of tackles to stumble his way through midfield. They win a throw-in deep in Mansfield territory and Wilson pauses to feel the back of his left thigh while he waits for it to be taken. It looks like he's tweaked his hammy.
60 min: Mansfield win themselves a corner. It's a poor delivery, played to the near post by Stephen Quinn, where David Worrall makes a mess of clearing it for Port Vale. Stephen McLaughlin pounces to shoot on the turn but sends his effort rolling wide of the upright.
59 min: Mansfield try the direct approach, lumping the ball long from deep. It's headed clear.
57 min: Mansfield enjoy a spell of sustained possession but still struggle to get beyond the halfway line. THey're down to 10 men and Port Vale are playing as if they have 13 or 14 out there, closing down the passing lanes, pressing hard and giving their opponents very few options.
55 min: Two goals and a man to the good, Port Vale are completely dominating the early stages of this second half. They're first to every breaking ball and making it difficult for Mansfield to get out of their own half.
54 min: Mansfield Town substitution: George Lapslie on for Jamie Murphy.
52 min: Port Vale's Jake Taylor clips the ball to the far post and Mansfield half-clear. Jake Taylor connects on the volley from a couple of yards outside the Mansfield penalty area but drags his effort a couple of feet wide of the upright.
50 min: Mansfield goalkeeper Nathan Bishop is forced to wallop the ball into the stands under pressure to concede a throw-in deep in his own half. Mal Benning takes it long and Matty Longstaff tries to clear for Mansfield.
48 min: Nifty footwork down the inside left of the Mansfield penalty area from Port Vale's Connor Hall, who tries to pick out James Wilson. It's a bullet of a pass and he controls the ball at his second attempt before unleashing a shot from a very tight angle that wins a corner for his side. Nothing comes from the set-piece.
47 min: There are no changes in personnel on either side, in case you're wondering.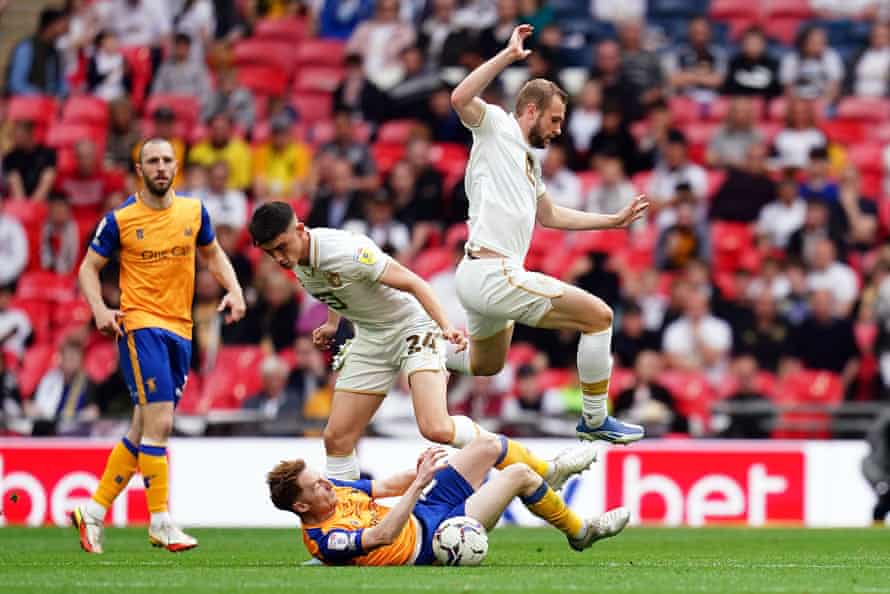 Second half: Mansfield Town 0-2 Port Vale
46 min: Play resumes at Wembley, where Mansfield Town have an Everest to climb. If they don't score first in this second half, one suspects the jig is very much up for them.
Match report: Grimsby Town booked their place in the National League playoff final, beating Wrexham 5-4 after extra time in a truly extraordinary semi-final that will live long in the memory of all who saw it. Read on …
Well, well, well: Mansfield started in the ascendency but things went quickly downhill for them. Kian Harratt and James Wilson scored two in the space of less than four minutes to give Port Vale a comfortable lead, before Mansfield's Ollie Hawkins plunged his side further into the mire by getting himself sent off for two bookable offences within five minutes. Port Vale are in the driving seat against the 10-man Stags.
Half-time: Mansfield Town 0-2 Port Vale
Peep! The half ends with James Wilson firing a shot straight at Mansfield goalkeeper Nathan Bishop.
45+4 min: Mansfield's James Perch gets booked for a clumsy, late challenge on Ben Garrity. Free-kick for Port Vale, a few yards outside the Mansfield penalty area, almost straight in front of goal. James Wilson sends an effort curling around the wall and fizzing inches wide. Mansfield goalkeeper Nathan Bishop was well beaten.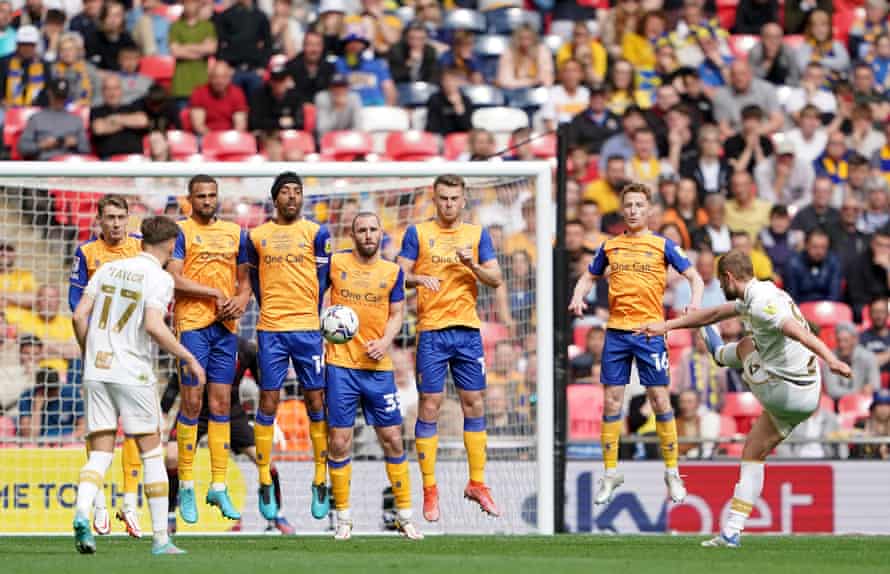 45+3 min: Port Vale advance in search of a third goal, trying to kill the game off. They win a throw-in deep in Mansfield territory but the ball ends up going out for a goal-kick.
45+1 min: Mal Benning sends the free-kick towards the far post, where Nathan Smith leaps to meet it. The chance is a good one but he sends his header drifting wide.
43 min: Mansfield's Elliott Hewitt is booked for a foul on Jake Taylor. There's a break in play as Taylor receives medical attention.
42 min: Port Vale clear one off the line, Connor Hall preventing a from Jordan Bowery effort from close range from going in after Aidan Stone had fumbled a shot and dropped it into the Mansfield striker's path. There were mere millimetres in that.
40 min: Patrolling his technical area, Mansfield manager Nigel Clough looks completely despondent and well he might. You can bet your bottom dollar his father Brian would have had plenty to say to Ollie Hawkins at half-time, if the defender hadn't had the good sense to leave the ground first.
38 min: Having picked up an initial yellow for a daft, unnecessary off the ball incident, Hawkins gets a thoroughly deserved second a few moments later for a moronic late challenge on Wilson. What was he thinking?
RED CARD! Mansfield down to 10 men
Disaster for Mansfield Town! Already two goals down, Mansfield are now a man down too. Ollie Hawkins gets his second yellow soon after his first for a ridiculous late lunge on James Wilson. That is indescribably dumb by the Mansfield central defender.