87 min: Luton corner. Kel Naismith sends the ball straight into the gloves of Lee Nicholls, who doesn't waste time on this occasion and sends the ball upfield on the counter. Huddersfield win a corner of their own after good work from Pipa.
84 min: Luton's Jordan Clark cuts inside from the left, unleashes a shot and sends the ball fizzing high over the bar. Huddersfield substitution: Sorba Thomas on for their goalscorer Danel Sinani. Another Wales international takes to the field.
82 min: Already on a warning for time-wasting over his kick-outs, Huddersfield Town goalkeeper Lee Nicholls continues to waste time without incurring a booking. Luton's fans are unimpressed with his antics and let him know in the strongest possible terms.
80 min: Luton central defender Reece Burke goes down injured with cramp and is replaced by Danny Hylton, a centre-forward who is often used in midfield. The home side switch to a back four.
78 min: Hudderrsfield gallop upfield on the counter with Duane Holmes on the ball. He drives forward, playing it diagonally into the path of Lewis O'Brien, whose shot is utterly feeble. They should have scored!
76 min: Huddersfield get the ball wide and Pipa finally gets a decent cross into the Luton penalty area, but it's cleared.
74 min: Luton clear Huddersfield's fourth corner in quick succession. The ball is sent back towards the far post from outside the Luton penalty area, where Harry Toffolo is caught off balance and trips over before he can steer a shot goalwards.
72 min: From that corner, Huddersfield win another and then another, with Cameron Jerome putting the ball out on the third occasion. Jon Russell is wreaking havoc in the Luton box and almost has the shirt pulled off his back by a defender.
70 min: Huddersfield win another corner, the ball going out off Sonny Bradley from Pipa. Huddersfield substitution before it's taken: Jordan Rhodes on for Danny Ward.
68 min: A Huddersfield corner is cleared. The ball comes to Pipa on the right wing but once again, he completely overhits his cross.
67 min: I thought that might be a "tactical" injury from Lansbury, but he limps off. He's replaced in the Luton midfield by Wales international Tom Lockyer.
64 min: Sonny Bradley gets a crucial touch on a ball from deep aimed towards Danny Ward in the Luton penalty area. There's a break in play as Henri Lansbury goes down in need of attention to a calf injury. Luton could do with the pause in play, as Huddersfield are dominating.
63 min: Sinani sends Pipa darting down the right wing as Huddersfield get the ball out wide but his cross is overhit and too high for Danny Ward.
63 min: Huddersfield continue to huff and puff but are unable to blow Kenilworth Road down.
58 min: Kal Naismith gets booked for Fernandinho-ing Duane Holmes as the Huddersfield Town midfielder threatened to dart past him in a dangerous positon. From the free-kick, the ball is sent into the Luton penalty area, where Sonny Bradley drags Naby Sarr to the ground at the far post. It's a blatant foul and referee Robert Jones has a clear view but for reasons best known to himself he elects not to award a penalty.
56 min: Danel Sunani makes a run in behind for Huddersfield but Duane Holmes underhits his pass from deep and fails to play the ball into his path. Sunani waves in appreciation for the thought behind the pass, if not the execution of it.
54 min: A Huddersfield corner is followed by another one, with Cameron Jerome putting the ball out of play. The second one is headed clear, then helped along by Harry Cornick, who boots the ball out for a throw-in near the halfway line.
52 min: Danny Ward shoots on the turn from the edge of the Luton penalty area. Good block by Sonny Bradley, who stretches out a leg. He's everywhere, the Luton captain.
49 min: Luton corner. Kal Naismith's superb delivery to the far post is clearly bundled wide by Huddersfield defender Tom Lees under pressure from Sonny Bradley, but Jones incorrectly awards a goal-kick. Luton's players are furious.
47 min: Pipa lined up in position for the start of the second half before being officially "brought on". A stickler for the rules, referee Robert Jones forces him to run all the way back to the near touchline so he can sprint all the way back again. Ridiculous.
Second half: Luton 1-1 Huddersfield
46 min: Play resumes with Luton kicking off. Huddersfield have made a change, with right wing-back Ollie Turton, who was struggling with injury towards the end of the first half, making way for the Spaniard, Pipa.
Half-time: Luton 1-1 Huddersfield
Peep! Referee Robert Jones blows for the interval and the players walk off for their half-time brew. It's all square at the break, after Luton's Sonny Bradley cancelled out Danel Sinani's opener for the visitors.
45+2 min: Huddersfield free-kick, on the inside right wing a long way from the Luton goal. Sinani raises his right arm and sends the ball into the mixer, where it's cleared.
45 min: We're into two minutes of added time at the end of a massively entertaining first half, in which both teams have scored a goal each and both have had stone-wall penalty claims denied.
42 min: Attempting a needless Cruyff turn, Jonny Russell loses the ball in midfield and Luton go forward. Cameron Jerome pulls the ball into the penalty area, where Henri Lansbury shoots. Naby Sarr blocks. A let-off for Huddersfield.
40 min: Good anticipation from Luton goalkeeper Matt Ingram, who denies Danny Ward after the Huddersfield striker skimmed a header towards the far post after connecting with a Danel Sinani ball from deep.
37 min: Having been denied a clear penalty, Jerome cuts inside from the left and curls a shot just over the cross-bar. Both sides should have had penalties in this first half, so it's fair to say things have evened themselves out in the (in)justice league.
33 min: There's a massive penalty shout from Luton's fans after Cameron Jerome appears to be brought down by Naby Sarr as he ran on to a pass from deep and advanced on goal with the ball at his feet. It was a clear foul from Sarr, who brought down Jerome in a tangle of arms and legs. The Luton striker managed to get a shot off from a very tight angle regardless but Huddersfield keeper Lee Nicholls saved.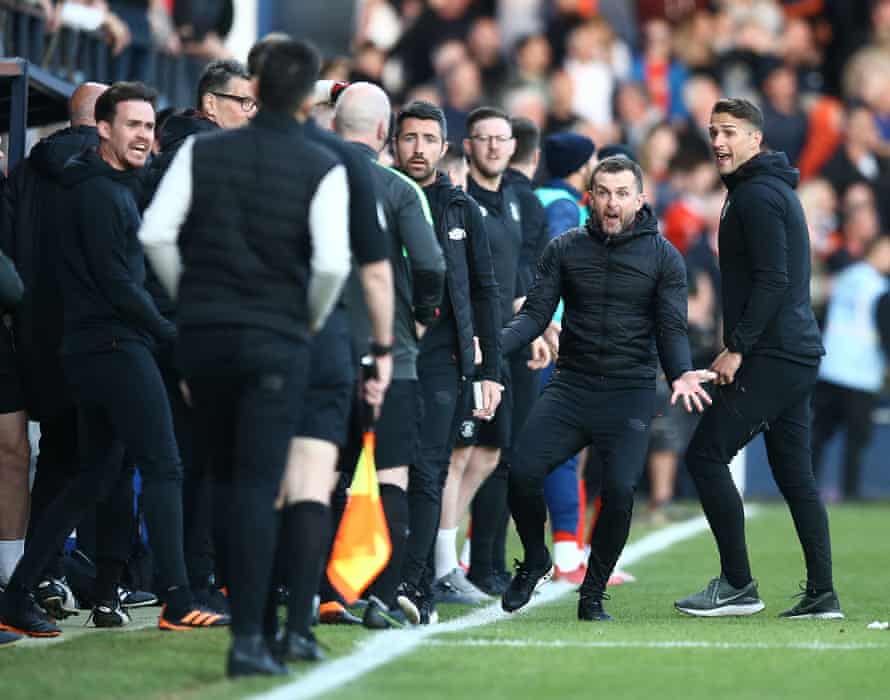 32 min: That's a fine strike by Luton's skipper but the delivery from Kal Naismith acorss the corridor of uncertainty was straight out of the top drawer.
GOAL! Luton 1-1 Huddersfield (Bradley 31)
It's all square! Luton win a free-kick, wide on the left. Kal Naismith's splendid whipped delivery is volleyed home by Sonny Bradley from the edge of the six-yard box.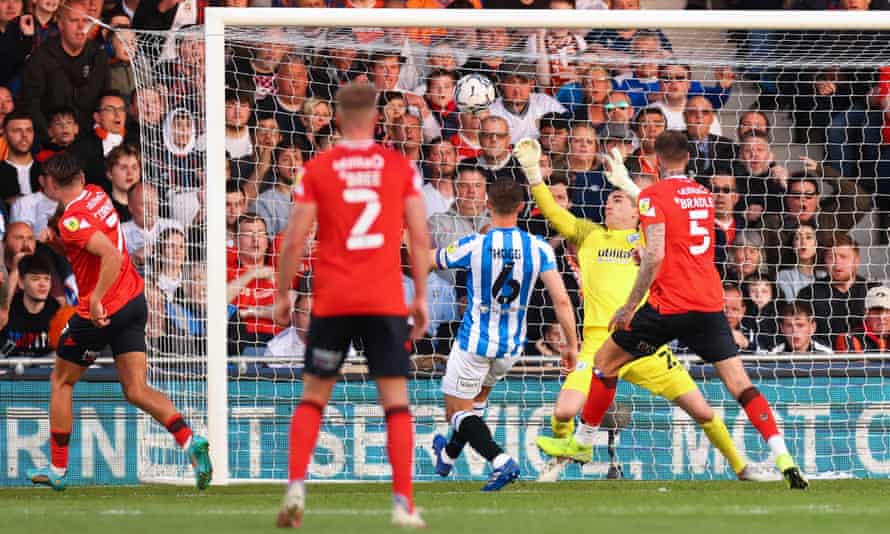 29 min: Cornick and Lansbury link up on the right touchline for Luton before the former Arsenal man overhits a cross into the Huddersfield penalty area.
27 min: Luton remain in possession of the ball, passing patiently as Huddersfield sit back and invite them on. It's a mite ponderous from the home side who struggling to find a way through or around their visitors.
25 min: Some slow, patient build-up play from Luton which breaks down when the veteran striker Cameron Jerome is flagged for offside after slightly mistiming a run in behind.
24 min: For Luton, Bree picks out Cornick with a long ball along the deck down the inside left. He's forced backwards.
21 min: Luton have settled again after that gut-punch against the run of play and are back in control of the game, if not the scoreline. It's a terrific game of football.
18 min: Harry Cornick sends another cross from the right in to the Huddersfield penalty area for SOnny Bradley to attack. Huddersfield goalkeeper Lee Nicholls is quick off his line to claim.
17 min: A tip of the hat to Harry Toffolo, who drove forward through midfield in the build-up to Huddersfield's goal, before playing an inch-perfect, weighted pass for goalscorer Sinani to sprint on to.
15 min: Huddersfield go forward again, but a menacing cross from the left into the Luton penalty area is cut out by Bradley.
13 min: Luton lost the ball in the Huddersfield half, over by the far touchline. Huddersfield broke upfield, bypassing their midfield and the ball was played through the centre for Sinani to race on to. He was forced wide by Sonny Bradley, but unleached a low shot that found the bottom corner, beating Matt Ingram at his near post.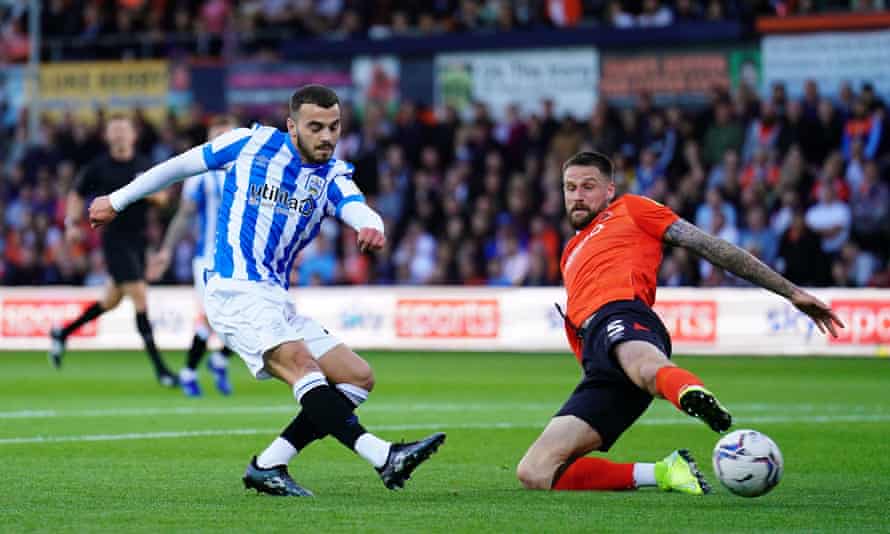 GOAL! Luton 0-1 Huddersfield (Sinani 12)
Huddersfield go ahead! They open the scoring throw Danel Sinani with a lightning fast break on the counter.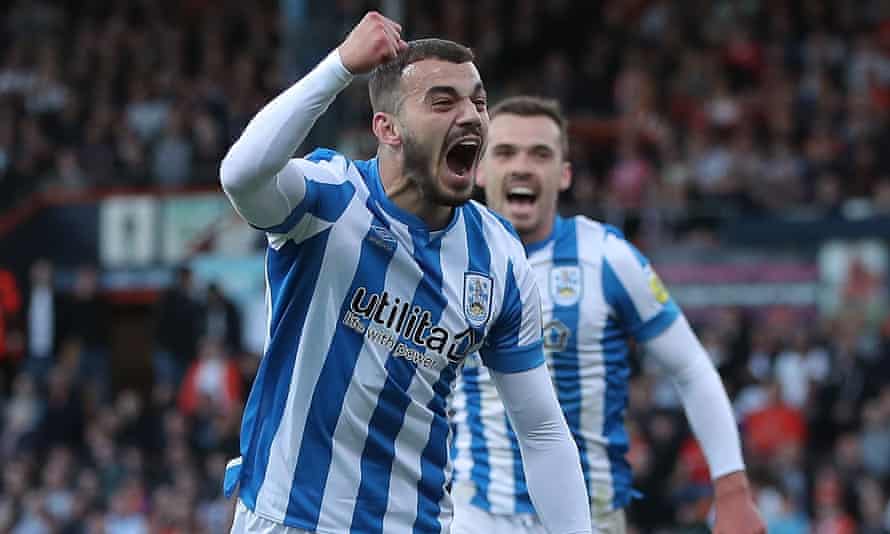 10 min: Naby Sarr heads the corner clear, it's sent back towards the right side of the Huddersfield penalty area and Harry Cornick sends a cross into the gloves of Lee Nicholls. Luton are completely dominant.
9 min: Luton goalkeeper Matt Ingram sends the ball long and his side end up winning a corner after good hold-up play from Cameron Jerome and a driving run from Jordan Clark.
7 min: Harry Cornick hares down the right touchline for Luton and tries to sling a cross into the penalty area. Naby Sarr blocks. After an extremely shaky opening eight seconds, Luton are very much in the ascendency.
5 min: Luton win a free-kick about 35 yards, possibly more from the Huddersfield goal. It's a long way out but Henri Lansbury tries his luck nonetheless. His effort is blocked.
3 min: We're off to a ripsnorting start here, with Huddersfield goalkeeper Lee Nicholls being forced to tip a Ollie Turton shot from distance over his crossbar. From the corner, Nicholls punches the inswinger out for a throw-in.
2 min: I'll tell you what, Huddersfield were robbed, there – Toffolo was clearly shoved off the ball illegally after eight seconds by Bree and should have got a penalty. Remember, there's no VAR in this game.
Luton v Huddersfield is go …
1 min: Huddersfield get the ball rolling with both teams lining up in a 3-5-2. Luton wear their customary orange shirts with black shorts and orange socks. Huddersfield wear blue and white stripes, white shirts and black socks. There's an extremely early appeal for a penalty as Huddersfield's Harry Toffolo is barged off the ball on the right side of the Luton penalty area by James Bree.
Not long now: It's a sunny night in Bedfordshire (for now), where the stands are packed. There's a sizeable contingent from Huddersfield in Kenilworth Road. The teams are lined up in the narrow tunnel, with barely breathing room between them. Out on to the pitch they go …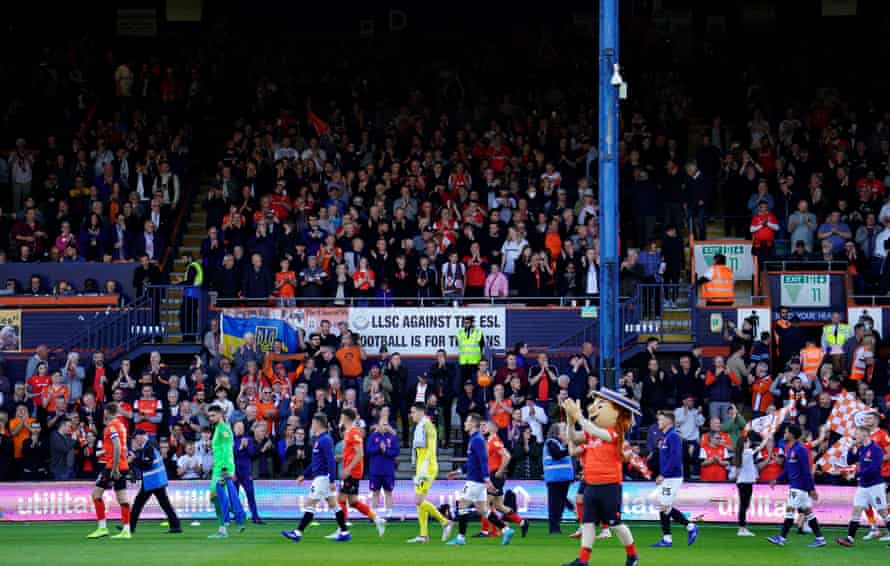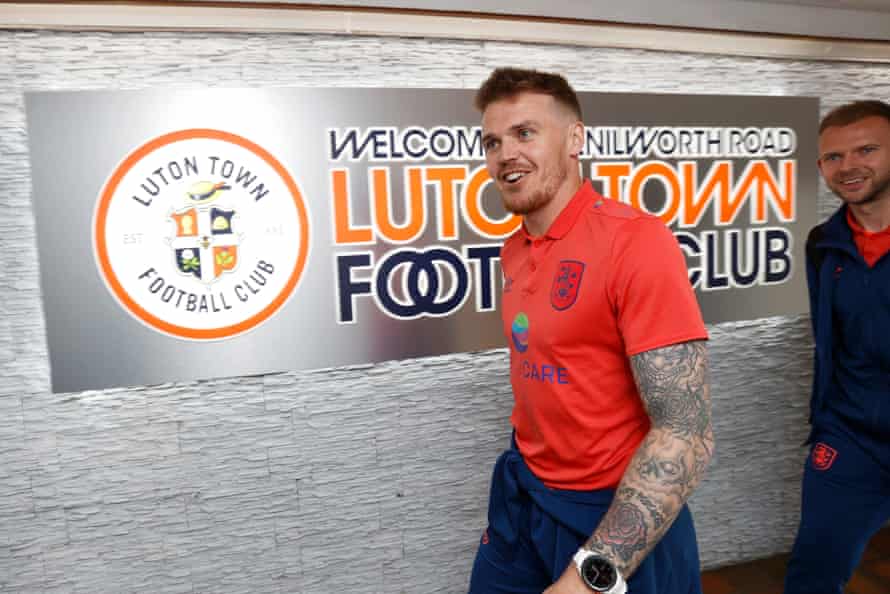 Luton Town v Huddersfield Town line-ups
Luton: Ingram, Burke, Bradley, Naismith, Lansbury, Bree, Bell, Campbell, Clark, Jerome, Cornick.
Subs: Potts, Hylton, Snodgrass, Mendes Gomes, Lockyer, Kioso, Isted.
Huddersfield: Nicholls, Lees, Hogg, Sarr, Turton, Holmes, O'Brien, Russell, Toffolo, Sinani, Ward.
Subs: Pipa, Anjorin, Rhodes, Thomas, Blackman, Colwill, Eiting.
Referee: Robert Jones (Merseyside)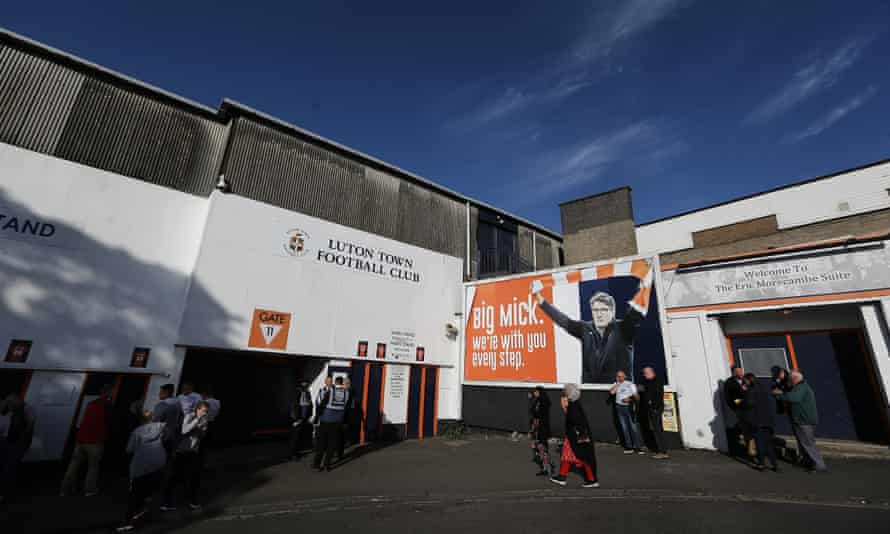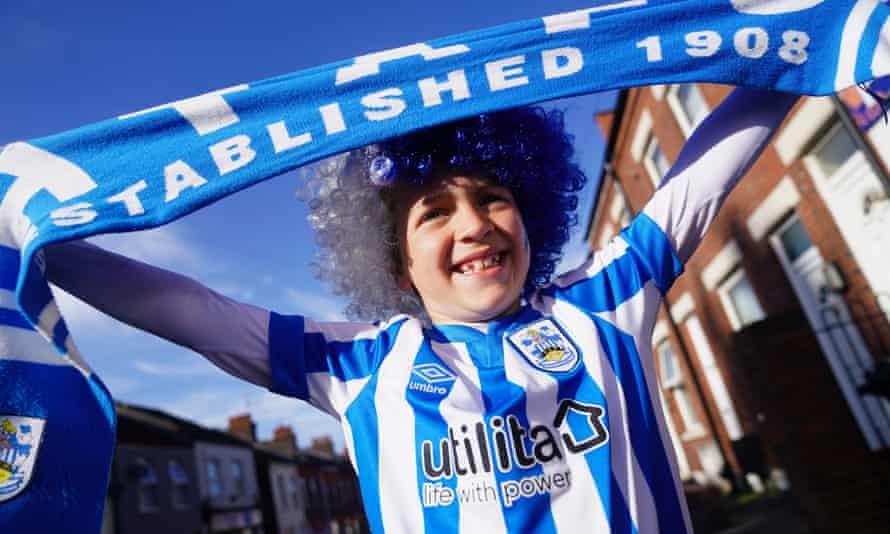 Tonight's match officials
Referee: Robert Jones
Referee's assistants: Ian Hussin and Wade Smith
Fourth Official: Simon Hooper
A reminder: There is no VAR in the Championship and away goals scored in playoff semi-finals do not count for extra.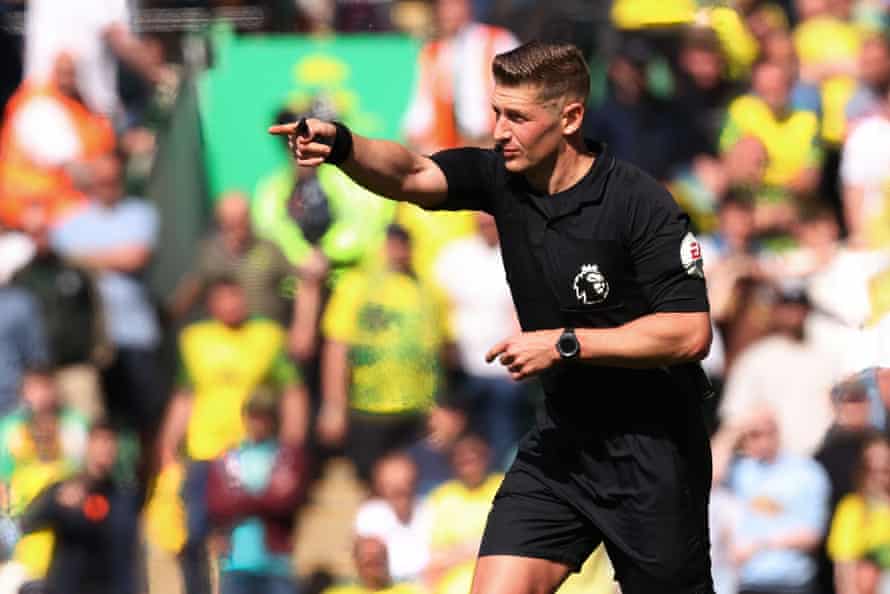 Huddersfield boss Carlos Corberan is hopeful that central midfielder Lewis O'Brien is fit enough to start after recovering from an abdominal issue that kept him out of the Terriers' win over Bristol City at the weekend, but has ruled out starts for winger Sorba Thomas and centre-back Matty Pearson, who have not got enough running into their legs after recovering from knee injuries but may feature off the bench if required. A former Luton player, Pearson has not featured for his side since March.
Luton manager Nathan Jones has endured a recent injury crisis in his squad but was able to summon James Bree, Allan Campbell, Harry Cornick and Sonny Bradley from the treatment room for last weekend's win over Reading. This weekend, he is hopeful his side's top scorer Elijah Adebayo could play some part tonight after returning from a hamstring injury that has kept him sidelined for the past three weeks. Three times a promotion winner with Luton already, midfielder Pelly Ruddock-Mpanzu has been ruled out.
Championship playoff: Luton v Huddersfield
The first of the playoff semi-finals gets under way tonight in the hostile but dilapidated environs of Kenilworth Road. While Luton Town have plans to build their own bijoux new 23,000-capacity stadium at Power Court, it seems almost unthinkable that their current ground could be staging top flight matches for the first time since 1992-93 next season, but the team that calls it home are just three games away from promotion.
It would be a quite astonishing achievement for a team that was playing non-league football as recently as 2014 and who operate on a miniscule budget compared to all bar one of their Championship rivals. Blackpool, seeing as you asked so nicely.
To make the Wembley final, they will have to overcome a Huddersfield side who have also punched well above their weight this season, with a mid-table squad budget of £17m (hat-tip: @Kieran McGuire from the Price of Football podcast), a sum that nevertheless dwarfs that of Luton, whose entire squad cost a mere £3.5m.
With the second leg in Yorkshire to come on Monday and the winners due to face Sheffield United or Nottingham Forest, kick-off this evening is at 7.45pm. Stay tuned in the meantime for team news and build-up.