Key events
77 min: Three of Japan's substitutes were involved in that goal. Hats off to Hajime Moriyasu!
GOAL! Germany 1-1 Japan (Doan 75)
Minamino gets involved immediately! He's sent clear down the inside-left channel by Mitoma's forensic pass. He sends in a shot-cum-cross that's parried well by Neuer, but only to the feet of Doan, who slams home from six yards. That had been coming!
74 min: Minamino comes on for Sakai, and …
73 min: Japan should be level! Ito chests down on the penalty spot and lashes towards the right-hand corner. Neuer reacts sensationally to parry, but the ball tees up Sakai, six yards out. He has to score! But leans back and blazes high and wide.
71 min: Doan comes on for Tanaka.
70 min: Germany pepper the Japan goal. Hofmann has a shot. Blocked by Gonda. Gnabry has another go. Blocked by Gonda. Raum crosses from the left. Gnabry's header is clawed out by Gonda. Then a final poke by Gnabry as he attempts to force the rebound home. Gonda makes save number four. Nothing comes of the corner.
69 min: A long ball down the Japan right. Sakai heads it infield for Asano, whose shot is blocked out for a corner by Rudiger. The corner's sent long, and the ball drops at the feet of Itakura, six yards out. If he shoots, he surely scores, but he can't control and the ball squeaks through apologetically to Neuer.
68 min: Now it's Germany's turn to make a double change. Goretzka and Hofmann come on for Gundogan and Muller.
66 min: Japan have looked more dangerous since making that double change. Asano strides into the box down the left and takes a shot that's deflected out for a corner. The set piece is sent long, and met at the far post by Itakura, whose header back across goal is cleared by Schlotterbeck.
65 min: Asano knocks the ball past Rudiger down the right and takes the big defender on in a footrace. Rudiger wins it, and showboats to boot, performing a couple of comic high-kicks while ushering the ball out for a goal kick in full flight.
63 min: Anyway, that Rewe shop pictured during the preamble. Here's Francis Lee: "Not really my part of town, but I'm pretty sure the ReWe supermarket pictured – and praised by Tim Woods – is further away from the Natural History Museum and housed in an old Markthalle. The one around the corner from the museum is in a horrible modern behemoth of a building. What it does have going for it, however, is the close proximity to a famous cemetery containing the luminary likes of Brecht, Heinrich Mann, Hegel, early 19th century Berlin architect Schinkel and East German writers Christa Wolf and Heiner Müller. Unable to confirm Tim's comparison, however, as they didn't have any branches of Waitrose in Birmingham when I was growing up, at least. Although they're defo both a step up from the old Asda behind Villa Park."
61 min: It's an entertaining game now. Gnabry nearly finds space for a shot after cutting in from the right. Then Japan counter through the subs Mitoma and Asano, the latter lashing wildly over from the left-hand side of the D.
60 min: … Musiala finds Gundogan down the middle. Gundogan opens his body and sends a low shot off the base of the right-hand post and out for a goal kick. Gonda was beaten all ends up.
59 min: Germany take the sting out of the game by slowing things down with some sterile, patient passing. Then they move through the gears and …
57 min: Asano and Mitoma come on for Nagatomo and Maeda. Asano finds himself immediately in the thick of it, meeting Ito's right-wing cross at full pelt and firing wide right.
55 min: Raum slips Havertz free down the inside-left channel. Gonda rushes out to close Havertz down. Havertz can't round the keeper, but is in the business of looking for a team-mate in front of the now-unguarded goal when the flag goes up for offside. Poor decision. Gonda and Japan get away with one there.
53 min: Musiala's run wasn't a million miles away from Ricky Villa's at the 1981 FA Cup final replay. The finish not so much. Japan counter, Tanaka crossing deep from the left. Kamada attempts a Marco Van Basten-esque volley from a ludicrously tight angle. Slice! Nope!
51 min: Musiala dribbles into the Japan box from the left and sits down four men. He eventually makes some space on the penalty spot, before getting the easiest bit wrong. He blazes over with only Gonda to beat.
50 min: Ito dribbles in from the right only to be eased off the ball by Schlotterbeck. A not particularly forceful claim for a penalty. Kamada shoots. Deflection. Corner. Wasted corner.
49 min: Japan are now lining up with five at the back. On ITV commentary, Ally McCoist predicts second-half midfield domination for Germany as a result.
47 min: Muller spins down the inside-right channel and powers infield. He flicks towards Gnabry on the right. Muller wants the return pass, waiting for it on the edge of the box, but he doesn't get it. Gnabry goes for goal, the ball shaving the top of the bar as it sails out of play. Muller offers him some beneficial advice.
Japan get the second half underway having made a change. Tomiyasu replaces Kubo.
More on that very effective German pre-match protest. "That's fantastic by the Germans," says Ian Wright on ITV. Roy Keane's not so sure, though: "Use their voice! Wear the armband! Leadership is about action. Go and do it. It's a gesture, and it's a start, but they can do more." Meanwhile our man in Doha, Sean Ingle, reports…
Half-time entertainment.
HALF TIME: Germany 1-0 Japan
… and so Japan are still very much in this.
45 min +5: … and having nearly gone 2-0 down, Japan go close to levelling, Nagatomo floating in a cross from the left, Maeda sending a header, intended for the top right, inches wide!
45 min +4: Musiala overhits a pass down the inside-right channel for Muller, who recycles possession by pulling the ball back for Kimmich. A shot is parried left to Gnabry, who crosses low for Havertz to tap home. The goal is awarded, but ludicrously so, as Havertz was miles offside. Eventually the "goal" is chalked off by VAR.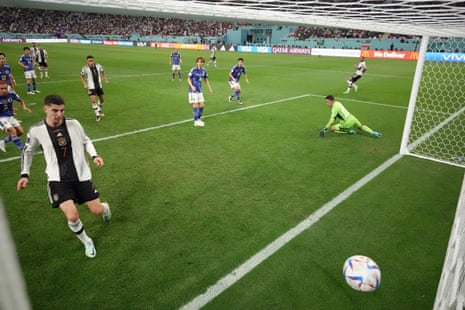 45 min +3: The crowd break into a rendition of Scott Joplin's The Entertainer. Arch comment on a nondescript half.
45 min +1: The first of four added minutes. A refreshingly old-school chunk of bonus time.
45 min: Germany stroke the ball around patiently, and for the first time this afternoon, impressively. It's eventually worked to Musiala on the edge of the Japanese box. He spins and aims for the top left, but gets too much loft on the shot, which flies miles over the bar.
43 min: Some atmosphere in the stadium now, as a Mexican wave breaks out.
42 min: Muller's cute lay-off tees up Kimmich on the edge of the Japan D. Kimmich flays harmlessly over.
40 min: Kubo is sent scampering into acres down the left. He cuts back looking for Maeda. Not quite. Intercepted. Then the flag goes up for offside. Japan continue to look fresh in attack.
38 min: Musiala busies himself in the Japan box. Gonda punches clear, but without too much authority. The ball drops to Kimmich, who should surely pearl a first-time shot goalwards from the edge of the box, but attempts a cushioned pass that doesn't come off. An odd decision.
37 min: More on that German protest, courtesy of the team's official Twitter account.