32nd over: England 103-1 (Lees 42, Pope 56) Boult forces Pope to dig out a nip-backer, then a single follows to square leg and this is a decent start for the home side, both batsmen re-established at the crease. Or, put another way, the collapse is imminent.
"As Swann looks like Colin Montgomerie," emails Andrew Benton, "perhaps I can point you to the uncanny likeness between Jimmy Anderson and Dirk Bogarde".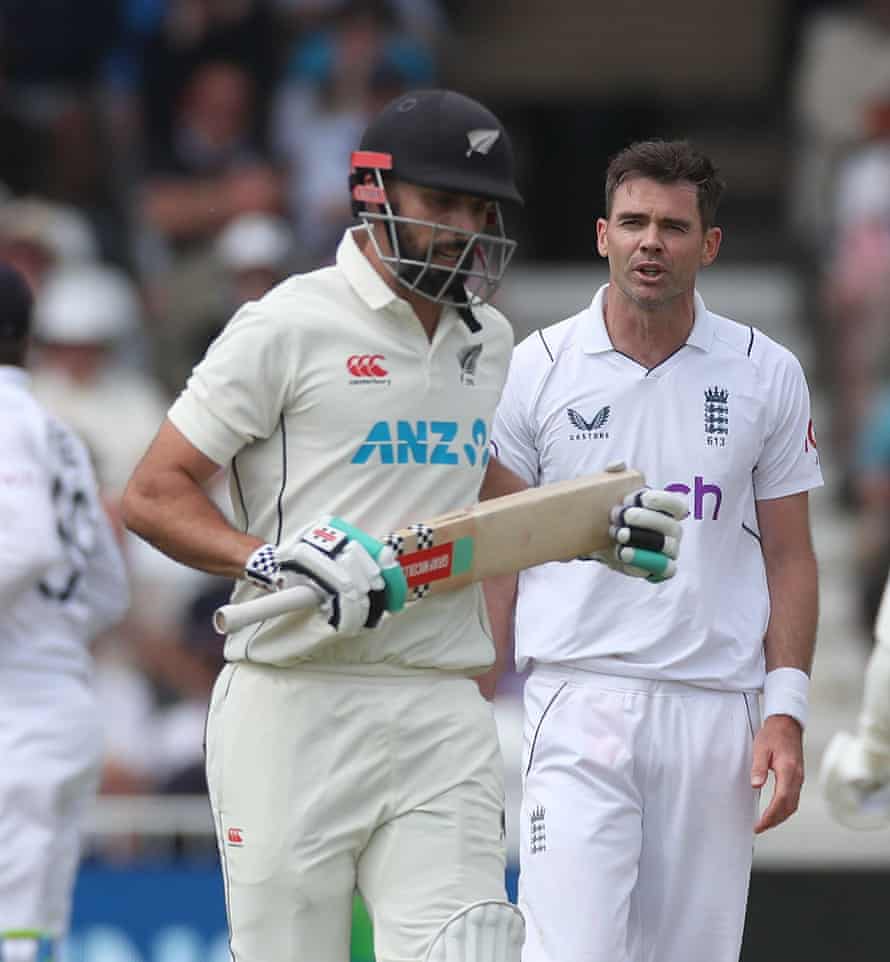 31st over: England 102-1 (Lees 42, Pope 55) Lees is in great touch here, and when Southee, coming from around, offers width, he leans on it to send the ball hurtling to the fence fo fo. That's England's hunnert up and Lees into the forties for the first time in a Test. He'll be pleading with himself not to waste this start, and just as I type it he shapes to leave the final delivery of the over, then half-bats it when reverse-swing forces the change.
30th over: England 98-1 (Lees 38, Pope 55) This is a good over from Boult, who induces an edge from Pope which drops short – in co-comms, Woakes reckons the pitch has slowed up – then beats the outside edge of an airy drive. Maiden.
"Autographs," begins Benedict Carter. "I can't say the same good things about Mike Proctor, who I asked for his autograph in around 1973. I was 10. He said, as the piece of paper and a pen were thrust at him, "F*** off little boy, we are here to play cricket!"
I've a not dissimilar tale from 1991, waiting for autographs at Lord's following day four of the Sri Lanka Test. Out came England's star man and a phalanx of kids immediately surrounded him, so he said "Get out the way or I'll trample your heads into the ground". I did, though, get him to write his name on my scorecard.
29th over: England 98-1 (Lees 38, Pope 55) This could be a long day of toil for New Zealand's bowlers – they might have to take the extra half-hour at stumps to see if they can finish England off, etcetera etcetera. Southee tries a succession of outswingers to Pope, who leaves the majority, seeing out five dots before turning a single into the on side to retain strike.
28th over: England 97-1 (Lees 38, Pope 54) It's Boult from the other end and Pope shoves his third delivery through cover for three – this outfield is absolutely rapid.
"Yes, you should read 'The Breaks Are Off', Swann's (ghosted) autobiography as it's a great story," returns John Starbuck. "The title is worth it alone, being a double pun. I suspect there's an agency somewhere dreaming up such titles. I also recall, from the 1980s, Ray East's 'A Funny Turn', also recommended for a good laugh and plenty of details about the mad stuff happening in Essex CCC."
It'd never previously occurred to be that Kurtis Blow is a cricket fan. But why wouldn't he be?
27th over: England 94-1 (Lees 38, Pope 51) Southee opens up and his third ball is wide, so Lees clouts it on the up through cover-point – that's a lovely way to get going of a morning (apparently). No need to run for those, the four that ensues the only scoring shot in the over.
"Fred Titmus? David Allen? Ray Illingworth?" wonders John Wilson. "Swanny lucky to come in the top five. Swanny big on mouth, big on bluster, mediocre bowler."
I didn't see the others you name, but I strongly disagree on Swann, who was a brilliant bowler for England and absolutely irreplaceable in a team that became the world's best.
"I had the pleasure of meeting Deadly once, in the mid 60s when I was a nipper," emails Jeremy Boyce. "Grandpa took us all to Headingley for the Saturday of a Windies Test. I was collecting autographs and after close of play spotted Deadly sitting near the front of a stand next to the pavilion, so went and asked. He was a totally nice gent, spent five minutes asking me about the match and whether I played cricket (yes, badly), signed his autograph nicely, a great man. And a demon bowler with a unique style, bowling left arm medium-slow-fast off about 12 paces of run-up, not many fewer than Richard Hadlee. Economical and frequently unplayable. Those were the days…"
The players are with us…
"Pope alas will not survive long because he is a player who lives on his nerves," reckons Ian Copestake, "and has had the whole night to dwell on whatever problem having scored 50 runs presents to a person who lives on their nerves."
I'm not sure. He looks to me like a player who always knew he was going to make it because their his talent is so resplendent, only to hit an unexpected bump – he's Ian Bell, basically. I'm still hopeful for him.
Swann says he thinks Leach is a potentially world-class spinner, but he doesn't think he is, landing the ball but not working out batsmen in the way he can in the county game. I'd love this to be the case; it'll beed to happen soon, because Matt Parkinson can't be far away.
"Swann averaged a tad under 30, although he took a great many wickets," says James Debens, "but I'd always pick Root. To be averaging about 15 runs more than the players he's been with for the past few years is astonishing. It's such a gulf in class. The 2021 Root batting in the 2010-11 would probably have averaged 70. He's easily the best batter that England have had in the past 50 years. The stats don't lie. I think Mo, Monty and others get an unfair shout."
Obviously Root is brilliant, but I think I could be alright with Trescothick, Cook, Gower, KP ands Bell, say. Who's my spinner if I've not got Swann? On which point, I still think Adil Rashid should've played through most of the last decade.
"Before Deadly Derek Underwood there was Tony Lock in the 1950s," notes John Starbuck. "Not that he was a tremendous spinner of the ball, but more because, rather like Warnie, he got wickets through force of personality. I agree about Swann, though; have you read 'The Breaks Are Off'?"
I've not – should I? Incidentally, does Swann look like Colin Montgomerie? There's something of the pantomime dame about both.
"Merry Sunday Dan, Morning, Shalom, Salam, Namaste ( As you wish)," opens Mohammed. "Is Trent Bridge the finest ground in this country? I really like Lees, plays with authority, has a presence and is a wonderful player on the offside, as Pope has been. Simply need to play positively, play the session and while forcing a win unlikely, a big score of 550+ not implausible."
I guess I find the track a little slow – my vote probably goes to OT, which has the best combination of pitch and venue. Lees really needs a serious score to settle him down, because he knows he can grit it out, but doesn't yet know if he can cash in.
"Morning Daniel, morning everyone," begins Robert Ellson. "There's something very admirable about the selectors' persistence in sticking with talents like Pope and Crawley when the players haven't always made it easy for them. Hoping that Pope will reward them today. I'm trying to exhibit the same kind of persistence and so, for the third year running, I'm hoping to establish "His Olliness" as a nickname for Pope. Any support gratefully received."
Yes, I do wonder about Crawley, who seems to be doing the same things then wondering why they yield the same outcomes. But Pope is one about whom I was sure who I think'll benefit from being given a permanent and crucial role.
What I loved about Swann no, not his blazer-shirt-slacks-broon shoes combo – was his commitment to attack. He spun the ball hard, tossed it up, and didn't worry about the consequences.
We've now got Graeme Swann on who, if you asked me to pick one England player from my lifetime to go into an XI, would be my choice. Not because I don't think Anderson, KP and Flintoff were as good, but because I can work around not having all of those, whereas no other spinner comes even close to him – I'm too young to remember Deadly. Nowadays, England struggle to even hold down an end with the slow stuff in first innings, but when Swann was in his pomp he'd be taking wickets as well.
Chris Woakes is on Sky looking extremely slick. He's surely a shoo-in for a telly role when he stops playing, and has just let us know that there's no worse feeling than dropping a catch. More news as I get it.
I enjoyed this – and thought Moeen handled the awkwardness very well.
There's something disquietingly familiar about this, isn't there? England, under the pump, end a day in decent shape … then collapse in short order and hilarious style at the start of the next. Just when you thought they were in, they drag themselves back out.
It's so easy to make the case, too. Alex Lees is already expert at getting in and getting out, Ollie Pope your classic architect of pretty but insubstantial knocks, and if those two topple early doors, we'll be down to Stuart Broad biffing sixes in no time. I can't lie: it's an invigorating prospect.
On the other hand, though, today's conditions should be friendly, the best for batting of the match, and England are well set to take advantage. Lees is doughty, Pope imbued by management with the confidence he needs to fulfil his potential, and behind them are Joe Root, Jonny Bairstow and Ben Stokes. Which is to say that disaster is eminently avoidable, so today will tell us more about the Brendon McCullum effect than did Root's heroics on the final day at Lord's. As Ian Ward mused so perceptively at stumps last evening, "the first hour could be crucial". Here we go!
Play: 11am BST