Key events
6th over: England 51-0 (Dunkley 39, Wyatt 12) Fifty partnership up for this opening pair. Well batted. They are doing this in style so far, the ball coming on to the bat and screeching to the boundary in the first six overs.
6th over: England 45-0 (Dunkley 35, Wyatt 10) Last over of the powerplay for India to get through. Sharma tosses one up and Dunkley's eyes light up as she sweeps powerfully for four. England in command.
5th over: England 38-0 (Dunkley 29, Wyatt 9) CLONK! Danni Wyatt gets in on the act by smiting Thakur through the covers for her first boundary. A single to point brings Dunkley on strike. Shot! Sophie D drives with plenty of bottom hand for four more! England have flown out of the traps.
4th over: England 27-0 (Dunkley 24, Wyatt 3) Sharma tosses one up and Dunkley lines up a huge drive only to get a big snick over the keeper for a couple. A full toss ix then smeared away to the mid-wicket fence, don't bowl there. Dunkley gets another boundary with a thrash through mid-off. Juicy over for England.
3rd over: England 15-0 (Dunkley 12, Wyatt 3) Dunkley flat bats Thakur over mid-on to bring England's first boundary. Unconventional but effective. Robert Croft is on the tv commentary with his lovely, lugubrious welsh lilt. Speaking of which – I've just seen this very sad news about Eddie Butler:
2nd over: England 8-0 (Dunkley 6, Wyatt 2) Sharma burgles an over – dragging plenty down but Dunkley and Wyatt find the fielders and only manage three off it.
1st over: England 5-0 (Dunkley 4, Wyatt 1) Here we go then, Dunkley and Wyatt to blitz this (tricksy) chase? Or are we in for a finger-chewer? let's find out…
Thakur is pacy and probing first up, Dunkley drives for two to get England underway. Another well run two and a single to Wyatt gives England a steady start.
Don't MISS this change of innings reading:
England fielded very well, holding on to their chances in the Bristol gloaming. It doesn't always work out like that though, as you well know. Yes you. Butter fingers.
India post 122-8 off 20 overs
England will need 123 to win and take the series.
20th over: India 122-8 (Vastrakar 19, Yadav 5) Freya Davies to bowl the last for England. She spears in a yorker but Vastrakar manages to dig it out and time it away for four! What a shot that is! Four more off the next too, Davies tries a slower ball and it comes out well but Vastrakar gets to the pitch and pierces the field. Final ball… a whip off the pads is saved on the boundary but India come back for three runs. 15 runs off the final over, India have made a game of this.
WICKET! Ghosh lbw b Ecclestone 33 (India 103-8)
What can India post from here? England will be starting to get a little twitchy whilst Richa Ghosh is still at the crease and looking so dangerous. The India 100 comes up with a scampered two from a Ghosh reverse sweep. She's gone now though! Ecclestone goes full and traps her plum in front. Ghosh reviews in vain and has to prise herself from the crease. She's given India a sniff.
Yadav is the new batter and she smears her first four down to third for a boundary! One over to go.
19th over: India 107-8 (Vastrakar 5, Yadav 4)
Praise indeed:
18th over: India 95-7 (Ghosh 29, Vastrakar 2) Ghosh hits back to boundaries off Issy Wong – she clatters a full ball down the ground and then follows it up with a ramp that flies away past Amy Jones to the boundary! And another four! Ghosh stays deep in her crease to give her time and crunches down the ground again for a third boundary. 16 from the over.
WICKET! Sharma st Jones b Ecclestone 24 (India 75-7)
A slight fumble but this time Amy Jones recovers and whips off the bails with Sharma stranded down the pitch. England have snaffled 7! Four runs and another wicket from Ecclestone's third over.
17th over: India 79-7 (Ghosh 14, Vastrakar 1)
16th over: India 75-6 (Sharma 24, Ghosh 11) Sarah Glenn into her third over, India continue to re-build but they can't find the boundary. A couple of twos and two singles aren't really enough to hurt England.
15th over: India 69-6 (Sharma 19, Ghosh 10) Lovely deft cut for four from the new batter Ghosh, she's giving India's innings a much needed shot in the arm. Scrappy over from Freya Davies, she lost her line a few times and releases the pressure slightly by going for 11 off the over. Five to go.
14th over: India 58-6 (Sharma 16, Ghosh 5) Ghosh is the new batter and she slams Bryony Smith over mid -wicket for a lesser spotted four. India need more of that to post something vaguely competitive. Six runs off Bryony Smith's final over – she finishes with 1-19 off her four. Tidy.
WICKET! Rana lbw b Ecclestone 8 (India 52-6)
Given out on review! Ecclestone pins Rana in front and India lose their sixth wicket. India were having a better over with eight runs coming from it, including four byes, but the wickets keep a'tumblin.
13th over: India 52-6 (Sharma 15, Ghosh 0)
12th over: India 44-5 (Sharma 15, Rana 4) Issy Wong into her third over, she has 1-5 off her first two. She sends down some fast, well directed short stuff and India have no answer. It's been 40 minutes and 52 balls since you took your love away since the last boundary.
11th over: India 39-5 (Sharma 14, Rana 1) Freya Kemp into the attack with her nagging medium pace and India can only work the singles, they need someone to take the attack to England otherwise this game, and series, is gone.
WICKET! Kaur b Glenn 5 (India 35-5)
Skipper gone! Harmanpreet got well and truly bogged down and tried to bunt Glenn a couple of times across the line, narrowly avoiding being pinned lbw. She has to go eventually – bowled through the gate by a skidding delivery by Glenn.
10th over: India 35-5 (Sharma 13, Rana 0)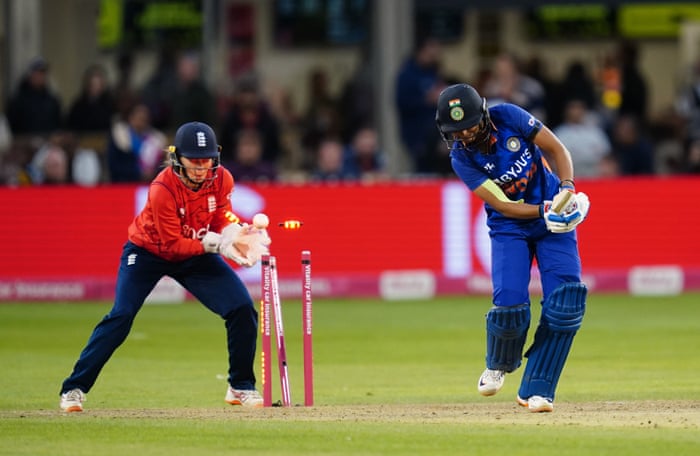 9th over: India 32-4 (Kaur 5, Sharma 9) Five runs off Ecclestone's first over, Kaur and Sharma flicking and poking for ones and twos as they try to get India a foothold in this game. They've only hit two fours so far in this innings. England have been miserly.
8th over: India 27-4 (Kaur 4, Sharma 5) Five runs off Bryony Smith's third over, India look a little shell-shocked – Kaur has 4 runs from 10 deliveries. Just what you need when runs are rarer than hen's molars… Sophie Eccleston, the numero uno white ball bowler in the world is coming on for a bowl.
7th over: India 22-4 (Kaur 3, Sharma 1) Nifty over from Glenn, just two runs and a wicket in it. England all over India here. They'll have their painful Commonwealth Games defeat to India fresh in the memory, they left Birmingham medal free and will be very keen to bag the silverware here in Bristol.
WICKET! Hemalatha c Jones b Glenn 0 (India 21-4)
Glenn gets another! Hemalatha goes back to cut and gets a meaty edge that Jones does brilliantly to cling onto up to the stumps. It's a procession!
6th over: India 20-3 (Kaur 1, Hemalatha 0) Freya Davies finishes her second over and England have had a blistering powerplay. Hemalatha is the new batter and Sarah Glenn is coming on for a bowl.
WICKET! Meghana c Wyatt b Davies 0 (India 19-3)
Fantastic catch by Danni Wyatt! Diving forward, knuckles on the turf, the hardest type of catches to take and she makes it look ridiculously simple. England have another!
5th over: India 18-2 (Meghana 0, Kaur 0) Issy Wong serves up a couple of wides but otherwise there is no runs from the bat as she spears in yorkers and hurries the batters up. Excellent start for England.
4th over: India 16-2 (Meghana 0, Kaur 0) Four runs and a crucial wicket off Bryony Smith's second over. She has Mandhana in her back pocket for the second time in three matches. The Indian skipper Harmanpreet Kaur arrives at the crease with her team teetering up top.
BIG WICKET! Mandhana c Ecclestone b Smith 9 (India 11-2)
Huge moment in the game! Mandhana goes down the ground but doesn't get all of it… Sophie Ecclestone sprinting around the boundary edge to cling on to the catch. Great hands!
WICKET! Verma b Wong 5 (India 11-1)
Issy Wong replaces Smith, from spin to pace – Wong is quick. She hits the pitch and hurries the Indian openers and then does for the dangerous Verma with a knuckle ball! Verma veered off to the leg side and Wong followed her with the slower delivery, the ball canoning off pad and into the stumps! England have their first.
3rd over: India 11-1 (Mandhana 5, Meghana 0)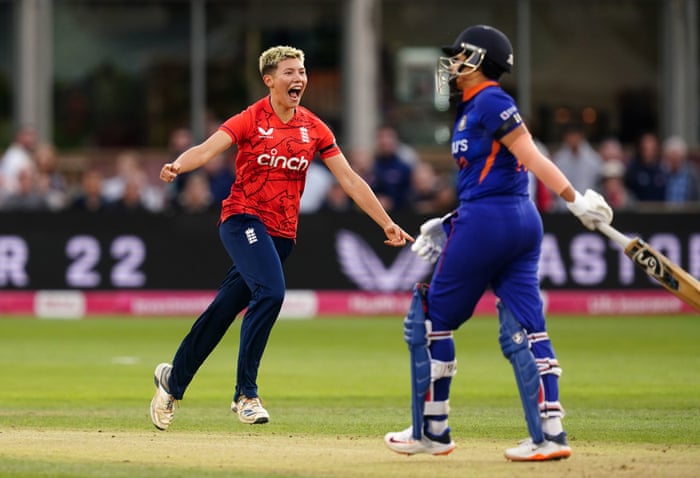 2nd over: India 11-0 (Verma 5, Mandhana 5) Freya Davies shares the new ball and Verma tries to hack her away very first ball, an edge ballooning over the in-field for a couple of spawny runs. A single brings Mandhana on strike. Davies drags down with her final ball and Smriti is on it in a flash – pulling away for India's first boundary.
1st over: India 4-0 (Verma 2, Mandhana 1) The ploy almost works as Smith nearly has Mandhana stumped second ball! The ball lifted and spat meaning Amy Jones couldn't gather it cleanly and Verma survives. Just. Next ball is DROPPED! A caught and bowled chance that bursts though Smith's hands in her follow through! All 'appening in the first over. India scamper four off it.
England are going with spin first up – Bryony Smith is going to have a twirl. Sneaky tweaky!
Evening sunlight peeps through pinky clouds as the players take the field for the anthems a minute of silence for HRH. Play will be underway very shortly, time to get a brew and quickly check in on toddler bath-time progress before cranking up the OBO.
The teams have just done their warm-ups out on the field, it looks fine but chilly in Brizzle, it is the middle of September so there are a fair few 'top coats' to be spotted in the crowd.
Teams:
England:Danni Wyatt, Sophia Dunkley, Alice Capsey, Amy Jones (c), Bryony Smith, Maia Bouchier, Sophie Ecclestone, Freya Kemp, Issy Wong, Sarah Glenn, Freya Davies.
India: Smriti Mandhana, Shafali Verma, Dayalan Hemalatha, Harmanpreet Kaur (ct), Richa Ghosh, Sabbineni Meghana, 7 Pooja Vastrakar, Deepti Sharma, Sheh Rana, Radha Yadav, Renuka Singh Thakur
Ch ch changes: For England – Issy Wong comes in for Lauren Bell and for India – Sabbineni Meghana replaces Kiran Navgire.
Amy Jones has decided to have a bowl first. Harmanpreet Kaur said she would have done the same… and she really had a good look at the pitch earlier:
Hello and welcome to the third and final T20I between Amy Jones' England and Harmanpreet Kaur's India.
We're in the wild wild West of England (Bristol) for this one game shoot out to decide the series after the two sides have inflicted comprehensive victories over each other so far.
England suffered a chastening loss in the last match at Derby (incidentally their first T20I defeat at *Fortress Incora County Ground* since 2009) largely due to some skittish top order batting that saw them reduced to 54-5.
They will take heart from the performances of some of their newer players – Maia Bouchier and 17 year old Freya Kemp showing their composure and class to re-build and post a respectable total. It wasn't nearly enough to stop one of India's experienced old timers (at 26!) Smriti Mandhana made mincemeat of the target, driving, sweeping and scooping her way to a classy 79* off just 53 balls.
England have the top two T20I bowlers in the world at their disposal in Sophie Ecclestone and Sarah Glenn and will be hoping for a better all-round display in this final game.
Play starts at 18:30, I'll be back shortly with the teams and the toss.