Key events
5th over: India 49-0 ( Mandhana 28, Verma 19) Huge fifth over for India! Kemp is taken for 19 off her first. She oversteps with her first ball and is smashed for four into the leg side. The free hit goes for four too, Mandhana is enjoying herself. Another one! Mandhana cracks Kemp through point for four more. Things calm down with a single… but not for long! Another short ball is launched over midwicket by Verma. One more over in the PowerPlay and Sophie Ecclestone is going to bowl it.
4th over: India 30-0 ( Mandhana 14, Verma 15) India cruising after four overs. More boundaries as Freya Smith strays onto the leg side and is punished by the Indian openers. England go for a change, Freya Kemp who starred with the bat is coming on for a bowl.
3rd over: India 19-0 ( Mandhana 8, Verma 10) Not content to be eclipsed by her opening partner, Verma now gets in on the boundary hitting. She strikes two from the over off Lauren Bell, the first down the ground off a full length delivery and the next a bludgeoning pull shot to mid-wicket!
2nd over: India 11-0 ( Mandhana 8, Verma 2) Freya Davies shares the new ball with Bell and again Mandhana is the aggressor, she swivels a leg side ball away to the fine leg boundary. India have started sprightly and crucially – not lost any wickets.
1st over: India 6-0 ( Mandhana 4, Verma 1) Lauren Bell starts for England and India take six off her first over. Mandhana playing a lovely glide through point for India's first boundary.
India need 143 runs to win
The players are heading back out, we'll be underway again very shortly.
20th over: England 142-6 (Kemp 51, Ecclestone 7) Yadav to bowl the last over and Freya Kemp plays two sublime shots down the ground! The first a SIX that clonks into the sidescreen and the next a powerfully driven four that sees her go to a first T20I fifty! Well batted Freya Kemp, a classy innings has helped England to a competitive total.
19th over: England 130-6 (Kemp 40, Ecclestone 6) Vastrakar to bowl her last and the penultimate over of the innings. England manage to get nine runs from it, Ecclestone using her crease to give her space to scythe over extra-cover for a boundary off the final ball.
WICKET! Bouchier st Ghosh b Rana 34 (England 119-6)
Sharp stumping by Ghosh as Bouchier over balances, she has to go but it has been a fantastic knock that has got England back into the game. Two overs to go, Sophie Ecclestone arrives with orders to give it a whack no doubt.
18th over: England 121-6 (Kemp 36, Ecclestone 1)
17th over: England 118-5 (Bouchier 34, Kemp 34) Bouchier rocks back and carves Sharma away through point for four. She goes to her highest T20I score with that boundary. Sharp running brings another two to make it nine runs from the over. This has been a very healthy partnership from two of England's newer players.
16th over: England 109-5 (Bouchier 29, Kemp 30) These two batters run well together, scampering twos and bringing up their fifty partnership. Yadav gets out of the over well though, just six runs from it. Four more to go.
15th over: England 103-5 (Bouchier 23, Kemp 30) Vastrakar with her third over. A leg side wide and a couple of singles to start and a ripple of applause from the Derby crowd as England notch up 100 runs. They've recovered well from a calamitous start. It's all singles as we move into the business end.
14th over: England 98-5 (Bouchier 21, Kemp 28) Kemp attempts a back foot punch but misses and very nearly drags her foot out of her ground. She's safe but only just as the bails are whipped off. A tighter over for India, just five runs from it.
13th over: England 93-5 (Bouchier 19, Kemp 25) Thirteen runs off the over, Freya Kemp blistering a six and bunting down the ground for four. Kemp is only 17 years old but brimming with confidence and skill. England close in on three figures.
12th over: England 80-5 (Bouchier 18, Kemp 14) Yadav back into the attack with left arm spin but she is met by a towering six dished out from the blade of Freya Kemp. Straight down the ground, flat and hit hard. England's less experienced batters getting some good exposure here and seizing their chance to impress.
11th over: England 72-5 (Bouchier 17, Kemp 7) England plunder twelve runs from the over including two Bouchier boundaries. The first a well-timed drive along the floor to extra cover and the next a violent swipe across the line that traces away over mid-wicket. England looking to attack every ball, they've hit 24 off the last two overs.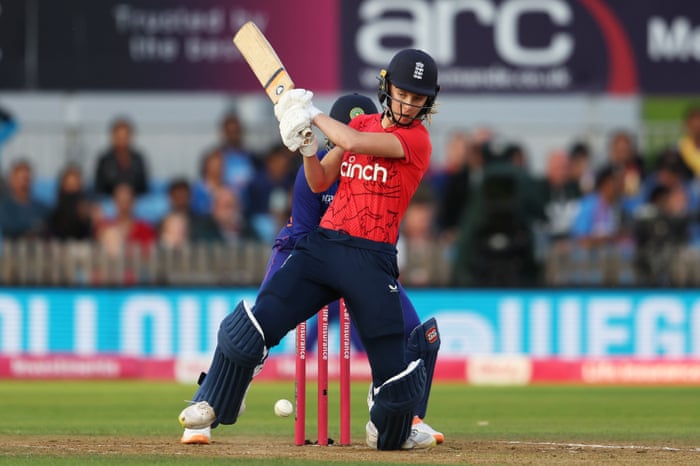 10th over: England 60-5 (Bouchier 6, Kemp 6) Freya Kemp arrives at the crease to replace her captain and she's straight into her work with a lofted drive over mid-on for four. England are still playing their shots, playing positively. Kemp picks up another couple to finish the over.
WICKET! Jones b Rana 17 (England 54-5)
Undone by the reverse sweep! Jones gets too cramped and has no room to get the bat down on a straight ball which skids on and clean bowls her. Half of England's wickets have gone now.
9th over: England 53-4 (Jones 17, Bouchier 5) New batter Bouchier plays the shot of the evening so far with a glorious straight drive down the ground for four! A single brings Jones onto strike but she is tied down and can't beat the field.
WICKET! Smith c Yadav b Rana 16
Another one bites the dust! Bryony Smith tries to go down the ground but she doesn't get all of it, Radha comes hurtling in from the fence and takes a stunning diving catch to send Smith back to the hutch! India's fielding has been hit and miss but they've taken the crucial chances.
England managed two boundaries off that over from Rana but still the wickets continue to tumble. Maia Bouchier is the new batter.
8th over: England 48-4 (Jones 17, Bouchier 0)
7th over: England 39-3 (Smith 12, Jones 12) Better over for England with two boundaries coming off it. Smith drives through cover for four and Amy Jones plays an effortless reverse-sweep to pick up another welcome boundary. Already seven overs gone, what's a good target for England to get to from here? 130-odd again?
6th over: England 29-3 (Smith 7, Jones 7) Four off it including a lucky top edge over the keeper from Amy Jones. Powerplay done and it firmly belongs to India. Radha Yadav is coming on for a bowl.
5th over: England 25-3 (Smith 6, Jones 4) Five runs from the over as Smith and Jones look to re-build. Their partnership making me think of this partnership:
4th over: England 20-3 (Smith 2, Jones 3) Skipper Jones arrives at the crease with her side in all sorts of strife. She's busy and her and Smith combine to pick up singles, thankfully without fatal results.
WICKET! Capsey run out (Kaur/Radha) 4 (England 16-3)
Disaster! Capsey is run out trying to come back for a third run but Bryony Smith sends her back and Capsey is run out by half a pitch. Proper breakdown in communication there and Capsey throws her head to the heavens as she trudges off. It was smart work on the boundary by Radha who relayed the ball to Kaur to wang into the keeper, who fumbled, but had plenty of time to recover and do for Capsey.
3rd over: England 16-3 (Smith 1)
WICKET! Wyatt c Rana b Thakur 6 (England 13-2)
Danni Wyatt is on her way now too, she had to play at a probing ball from Thakur that just straightened and took the shoulder of her blade. Well held by Rana at slip, low and to her left.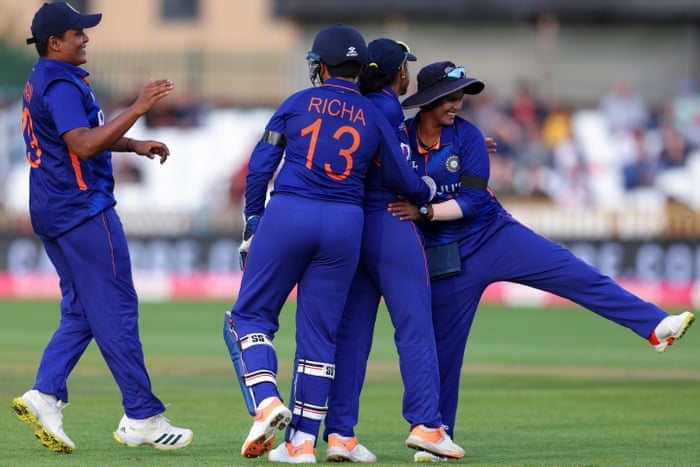 2nd over: England 13-1 (Wyatt 6, Capsey 2) Alice Capsey is the new batter, she clips off her toes to get off the mark with a single. England under pressure after the early wicket, they are content to rotate strike. Four runs from the over.
WICKET! Dunkley st Ghosh b Sharma 5 (England 9-1)
Dunkley gone! She tries to launch Deepti Sharma down the ground but misses by some distance and is stranded way out of her ground. Ghosh removes the bails almost apologetically and India have their first scalp.
1st over: England 9-0 (Dunkley 5, Wyatt 4) Movement early for Thakur, Dunkley watches the first ball seam in quite prodigiously. The next ball is pushed fuller and Dunkley has a swish and misses. That's the first boundary thought, Dunkley clips elegantly off her pads to the mid-wicket fence. A single brings Wyatt on strike and she plays a lovely late glide in the gap for four more! Nice start for England.
Here come the players, Wyatt and Dunkley walk with purpose to the crease and Renuka Thakur has the new white ball in her grasp for India. It's a sunny, calm and bright evening in Derby. "Derbados" as Dominic Cork notes drily on the tv commentary.
Ten minutes or so to the start of play. If my calculations are correct then I make it 13 years since England's women last lost a T20I in Derby. 2009 and many moons ago. The players are about to partake in a minute's silence and then we'll have the anthems too.
Here's how India line up:
Buddum-chhhh
Here's how England are lining up:
England win the toss and will bat
Amy Jones wins the toss and is all smiles at a sunlit Incora County Ground as she informs Lydia Greenway that they will have first use.
Harmanpreet suggests that her side are happy to bowl and chase under lights later on.
Both sides are unchanged from the first game in Durham.
Here's some pre-game reading:
Hello and welcome to this second T20I OBO of England v India at Derby.
England prospered on a wet and cold one up in Durham on Sunday night, the conditions in early September in the north-east were more suited to Heathcliff than they were for Harmanpreet Kaur's side.
A sluggish pitch and soggy outfield saw India go down by nine wickets with 42 balls remaining. Sarah Glenn scooping player of the match with her 4-23 and opener Sophia Dunkley hitting a composed and stylish 61 off 44 balls to steer England home.
It's a three match series so all to play for in this second game, the play will be underway at 6pm and I'll be back with the teams and the toss very shortly.