FULL TIME: England 0-0 Italy
The whistle goes, and England remain bottom of Group A3.
90 min +3: Trippier sends it into the box. There's a bit of pinball, but Italy clear their lines, then Bowen bashes into Gnonto. The free kick takes the pressure off Italy. That's surely it.
90 min +2: Bowen barrels down the left and is cynically clipped by Tonali, who takes a booking that means he'll miss the next match against Germany.
90 min +1: Ward-Prowse's inswinger is headed behind by Acerbi. Ward-Prowse whips in low from the left. Phillips, at the near stick, flicks onto the base of the post, but Italy clear, and he's penalised for shoving Raspadori in the back anyway.
90 min: A free kick for England out on the left, as Di Lorenzo clips Trippier. Ward-Prowse to deliver. England line up on the edge of the box. There will be three added minutes.
89 min: Right. Some late drama, please!
88 min: Fikayo Tomori pulls up with cramp and is replaced by Marc Guehi.
87 min: Italy make another couple of changes. Bryan Cristante and Alessandro Florenzi replace Matteo Pessina and Federico Dimarco.
86 min: Bowen puts his foot on the gas and zips down the right. He enters the Italian box only to run slap bang into Acerbi, who isn't giving an inch. That's the end of that, then.
84 min: Phillips looks to find Saka with a quarterback's pass down the right wing from deep. It's too strong and Donnarumma comes to the edge of his box to claim calmly. After an opening flurry of activity, England's creativity has dipped significantly.
82 min: Ward-Prowse goes into the book for a mistimed, rather than malicious, slide on Pessina. He raises a hand of apology to the referee, but he's not charming his way out of a yellow.
81 min: Gnonto scampers after a speculative long ball. For a second, it looks as though he's going to get there first and race clear on goal, but Tomori sticks out a telescopic leg and hook-tackles away from danger. That's a magnificent last-ditch challenge.
80 min: That's Sterling's last act of the game. He's replaced by Bukayo Saka.
79 min: Kane bustles down the left and tries a couple of one-twos with Sterling. The second attempt leads to a lucky ricochet that allows Kane to squeeze through a gap and into the box. With not much space or time to work with, he larrups a snapshot over the bar from a not particularly inviting angle.
77 min: Gianluca Scamacca is replaced by his Sassuolo strike partner Giacomo Raspadori.
75 min: Tomori's loose pass in the centre circle allows Pessina the opportunity to romp down the right. He looks for Scamacca in the England box, but can't find him. The quality's dropped in the last few minutes. Hey, it's the end of a very long season. Everyone should already be on the beach.
73 min: Sterling turns on the jets and enters the Italian box down the left, but his attempt to sit Pessina down and make space for a shot doesn't quite come off. Full marks for intent and ambition, though.
72 min: England pass it around the middle for a while, but don't go anywhere. Given they're more desperate for the win, it's admirably patient play if nothing else.
70 min: Gnonto gets involved in short order, dribbling at pace into the England box from the right, holding off the attentions of Ward-Prowse, and whipping a shot into the side netting.
69 min: Dimarco embarks on another power dribble, and is this time bodychecked by Phillips. A fussier referee might have had something to say about that. Just a free kick.
67 min: Bowen dribbles across the face of the Italian box. No way through. The ball's worked back to Ward-Prowse, who screeches a speculative long-distance effort well wide right.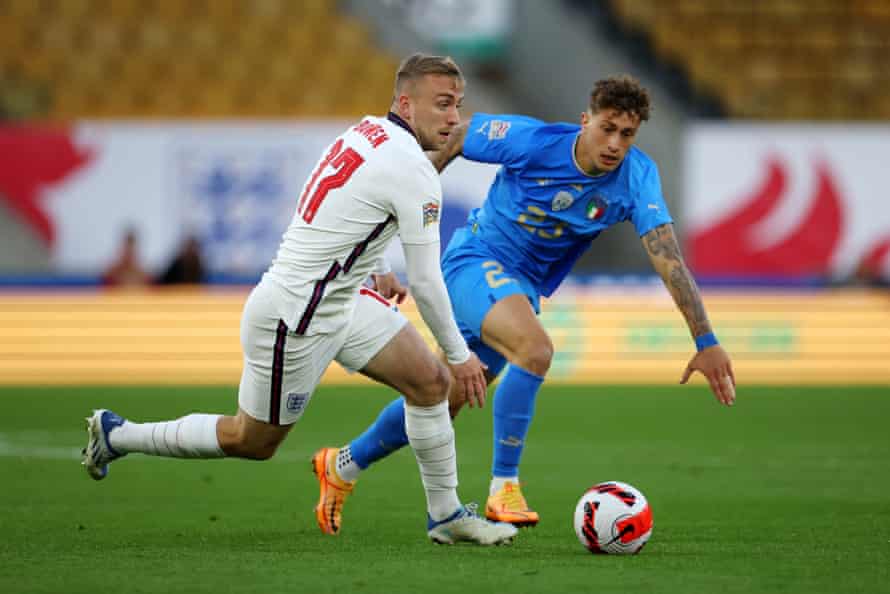 66 min: Dimarco jinks and juggles his way down the left, before sending in a cross that nobody in blue attacks.
65 min: A double change for Italy, as Wilfried Gnonto and debutant Salvatore Esposito replace Manuel Locatelli and Lorenzo Pellegrini. Meanwhile England make three swaps: on come Jarrod Bowen, Harry Kane and Kalvin Phillips for Declan Rice, Mason Mount and Tammy Abraham. Good to see Phillips back sooner than expected, after suffering so much injury woe this season.
63 min: Pellegrini chips a delightful diagonal pass towards Di Vicenzo, cutting into the England box from the right. Di Vicenzo can't quite get his shot away, and Ramsdale blocks out for a corner from a tight angle. Nothing comes of the resulting set piece.
61 min: Grealish tries to release Abraham down the inside-left channel with a forensic pass, but the striker clanks into Gatti instead of trapping, and a promising situation is gone.
59 min: Abraham showcases a couple of tricks down the left and nearly one-twos his way into the Italy box via Mount. Frattesi comes across and blooters a clearance into Abraham's face and out for a goal kick. No more than a glancing blow off Abraham's startled coupon, thankfully, and he's good to continue without any treatment.
57 min: Pellegrini sashays in from the left and is unceremoniously brought down by James, just within the no-yellow limits. Pellegrini's runs have troubled England all evening.
55 min: Ward-Prowse and Grealish combine on the edge of the Italian box to find Sterling just inside the area on the right. Sterling drags a shot, intended for the bottom left, straight at Donnarumma.
54 min: Pellegrini slithers out of a tight spot on the left and tears into the England half. He tries to slip Scamacca clear, but his pass hits his team-mate on the heel. An unlucky way to end a slippery-as-an-eel run.
52 min: England should be leading. They ping it around patiently. Then, suddenly, Grealish shovels a pass wide right for James, who curls a tempting ball through the Italian six-yard box. Sterling simply has to tap home, but somehow skies it over the bar. Shades of his astonishing miss for Manchester City against Lyon in the Champions League a couple of years ago.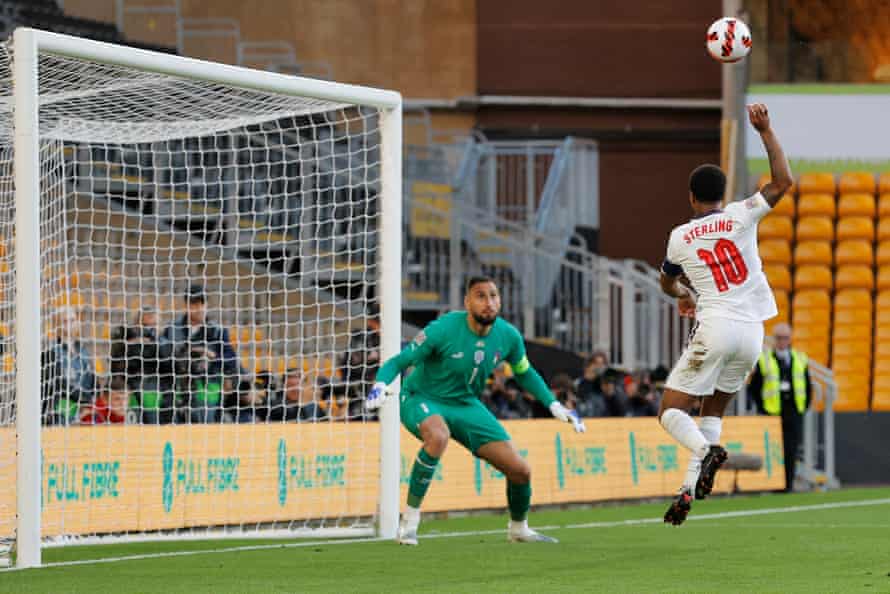 50 min: Pessina tries to release Pellegrini down the middle with a long rake. Ramsdale comes racing out of his box to chest down and clear. That's fine sweeper-keeping, though I suspect the flag would have gone up for a fairly obvious offside anyway.
48 min: Ward-Prowse ships possession in the centre circle, allowing Pellegrini to romp down the middle. He attempts to slip Scamacca into the box. The ball breaks instead to Pessina, who skies a first-time shot from the edge of the D. Looks like Italy are picking up where they left off.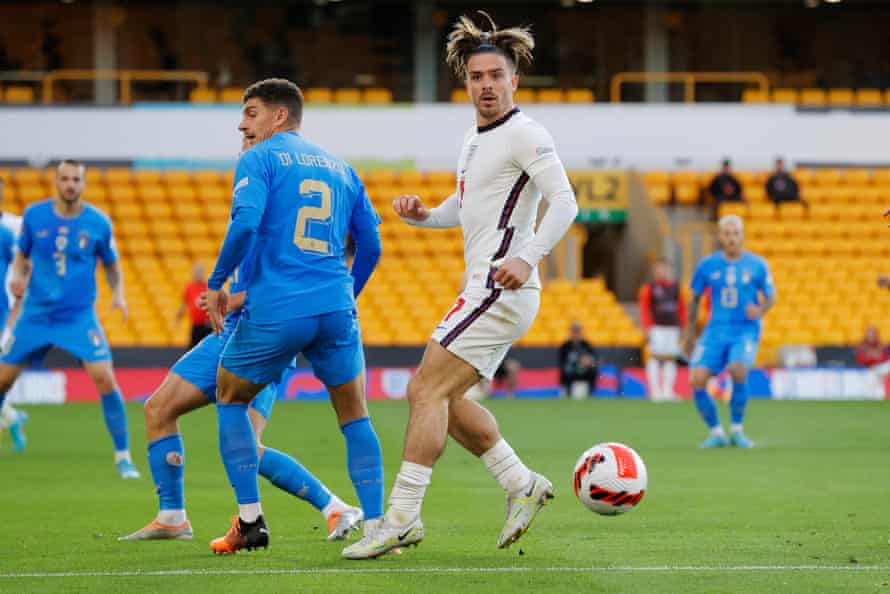 47 min: Ramsdale shanks a pass upfield straight to Tonali, and is extremely fortunate the Italian midfielder isn't able to control. Maguire nicks the ball away and saves his keeper's blushes.
Italy get the second half underway. Neither manager has made any half-time changes.
You want more Nations League-infused half-time entertainment? We got more Nations League-infused half-time entertainment!
There's already been one big game in the Nations League today … and in it, the Republic of Ireland handed Scotland their shorts, freshly laundered and neatly pressed. Ewan Murray was there to witness Ireland's comprehensive victory.
HALF TIME: England 0-0 Italy
The whistle goes with Italy slowly gaining the upper hand … but England have had their chances too. It's been an entertaining, open game.
45 min: From the resulting corner, Pessina has a shot blocked, then Locatelli improvises a low diagonal daisycutter towards the bottom left, which Ramsdale claims well.
44 min: Some good work again down the Italian right, Di Lorenzo pulling back for Pessina, whose hard drive deflects off Ward-Prowse, and is then palmed over the bar by Ramsdale.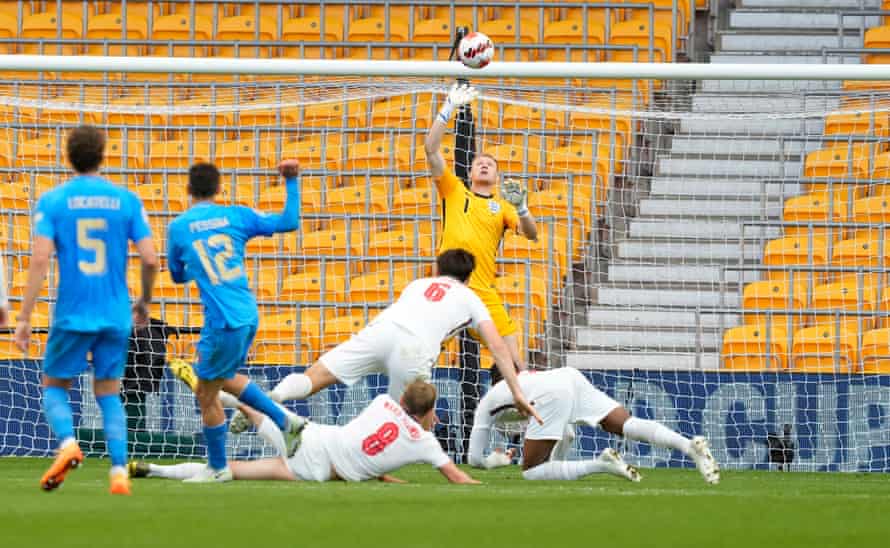 43 min: Italy are finishing the half stronger, seeing more of the ball. England aren't desperate to hear the half-time whistle, exactly, but they won't mind too much when it sounds.
41 min: Frattesi slips a diagonal ball into the England box from the right. Ward-Prowse tries to intercept but his slide only deflects it into the path of Pessina, who clips inside for Scamacca, on the right-hand corner of the six-yard box. Scamacca spins and welts a shot over the bar from close range. He grimaces, as well he might. He should have hit the target and worked Ramsdale at least.
40 min: Mount cuts in from the left and sends another weak shot straight down Donnarumma's throat.