ISL Season 8: The Indian Super League is just heating up as Sielod winners Jamshedpur FC will be looking to overturn their first-leg deficit against Kerala Blasters to reach their first-ever finals. Whereas the Blasters are looking to continue their exceptional form and qualify for their third ISL finals. Follow all the ISL 2021-22 LIVE Updates only on InsideSport.IN
Both the teams have an exceptional set of players but we have picked five players who can change the game on its head. Starting from Sahal Abdul Samad's first leg to Greg Stewart's masterclass, here are the list of five players who can turn up in the second leg.
Ruivah Hormipan
No caption needed! 💛@HormipamRuivah #JFCKBFC #OurTimeIsNow #YennumYellow #KBFC #കേരളബ്ലാസ്റ്റേഴ്സ് pic.twitter.com/bmInHuGilU

— K e r a l a B l a s t e r s F C (@KeralaBlasters) March 11, 2022
It has been a fairytale season for the young Indian centre back who has only gotten better with matches. Hormipan oozes with confidence in the first leg of the semifinals as he kept Daniel Chima at bay and completely neutralized the combination between the Nigerian and Greg Stewart in attack for the Men of Steel.
The youngster has given immense balance to the team and Ivan Vukomanovic was quick to spot his talent and place his trust in him. Hormipan playing along with Leskovic allows the Serb to play the trio of Alavrto Vazquez, Adrian Luna and Jorge Pereyra Diaz. So he is definitely one of the players to watch out for heading into the second leg as a performance like the last one will propel the Blasters to their third ISL finals.
Peter Hartley
The leader of the pack for Jamshedpur FC, Peter Hartley always looks to put everything on the line when he is on the pitch. A solid defender and an even better captain, hartley needs to be at his best health and form to keep the Blasters' attacking quartet at bay. While he will have Eli Sabia beside him, a lot will depend on the former Motherwell FC centre back.
Hartley has been one of the primary reasons why the Men of Steel won the Indian Super League Winners' Shield. He braved through injuries and delivered some sensational performances to help Owen Coyle's men. The veteran English man needs to turn up once again this time to help his team propel to their first-ever ISL finals. Apart from his defence Hartley is also fond of scoring goals from setpieces, so the Blasters need to be wary of that aswell.
Adrian Luna
Kerala Basters' main orchestrator in the middle has to be Adrian Luna. The Uruguayan midfielder pulls the strings from behind and helps Vazquez and Diaz to pile up the goals. LUna has been a quality addition to the Blasters roster this season as he is has been one of the best players in the current campaign.
Starting with panache, to trickery to scoring goals from setpieces, Luna knows it all and when he is in the groove he can change any game on its head. The 29-year-old has been tremendous till now and has registered five goals and seven assists, Luna has that aura of delivering on the big stage. He is surely of the players to watch out for in the second leg against Jamshedpur FC.
Sahal Abdul Samad
Kung-Fu Sahal! 🥋#JFCKBFC #YennumYellow #KBFC #കേരളബ്ലാസ്റ്റേഴ്സ് pic.twitter.com/WbfGO5loT3

— K e r a l a B l a s t e r s F C (@KeralaBlasters) March 11, 2022
The Kerala Blasters fan favourite proved his worth by scoring a brilliant goal in the first leg which ultimately made the difference between the two teams. This has been Sahal's best ever ISL season in terms of goalscoring as he has already notched up six goals for the season along with an assist. The Indian youngster has proven his mettle that if placed in a correct system among perfect players he can flourish and prove his prowess of finding the net consistently. He has been equally influential along with Luna in midfield or even out wide.
Vukomanovic's arrival has been a blessing for Sahal as he has used the 23-year-old brilliantly. He allows Sahal that freedom to move around and get into half-spaces. This is how he often get in behind the opposition's defences. He has also developed a great bonding with Diaz and Vazquez and together they can take down any defence in the league.
Greg Stewart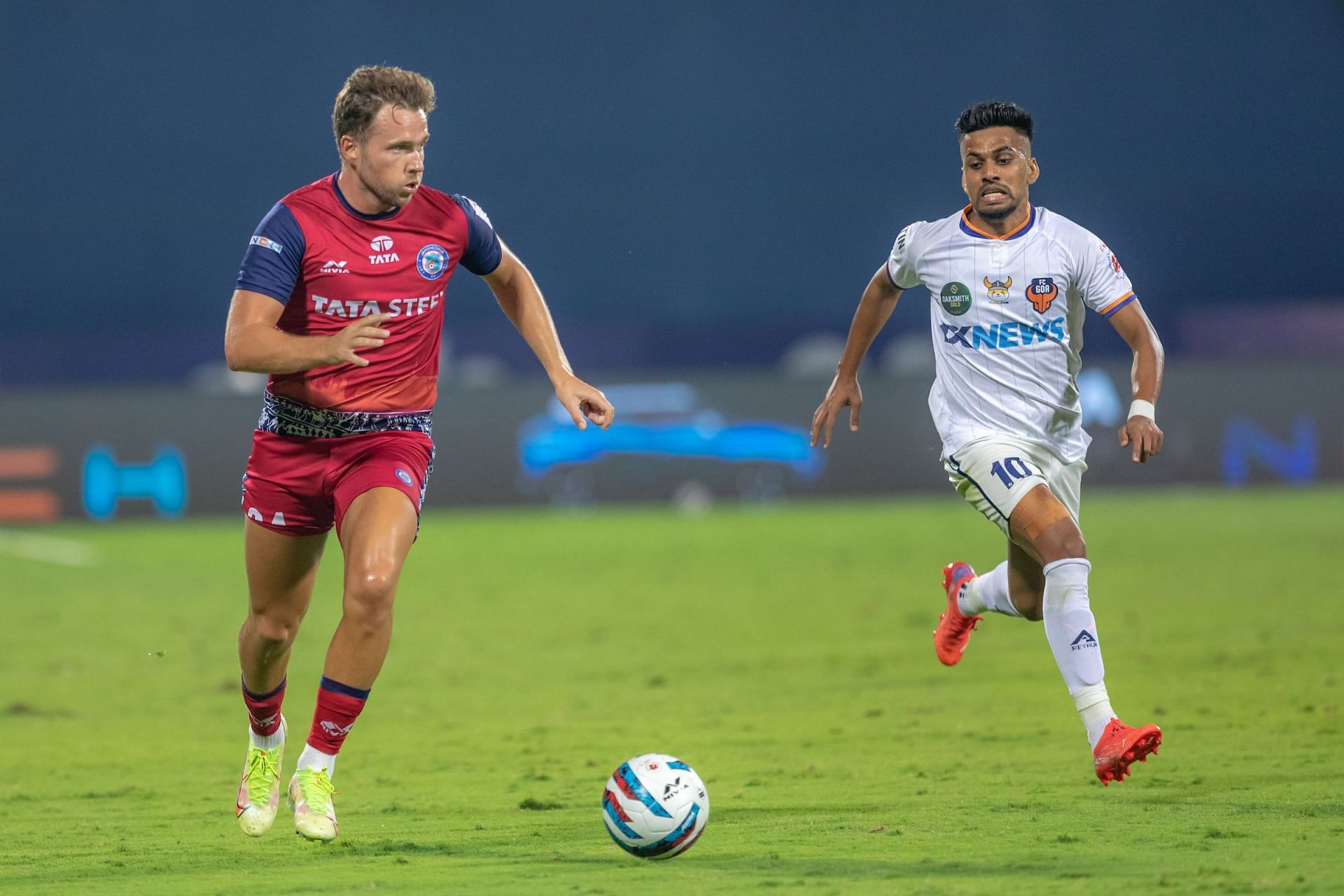 Greg Stewart has to be the best foreign expect in the ISL this season. The Scotsman has taken the league by storm with his exceptional ability to glide past defenders and create goalscoring chances. He has scored some sensational goals from setpieces and has also shared a great bond with his forwards like Daniel Chima, Ritwik Das and Seiminlen Doungel.
Stewart has registered 10 assists and 10 goals till now, which surely makes him the candidate to win the Golden Ball this season. The former Rangers man was exemplary with his skills and trickery and was one of the major reasons for the Men of Steel to win the ISL Shield. While Stewart was rather quiet in the first leg, Owen Coyle will hope he comes into his element in the second leg against Kerala Blasters.
– Advertisement –